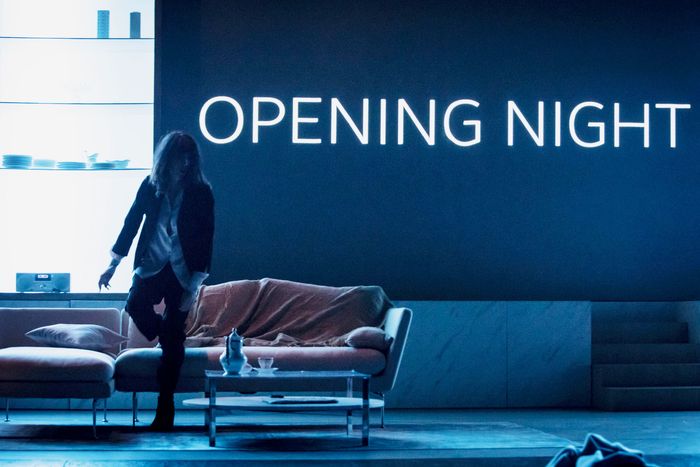 A few weeks ago, I attended a play starring the iconic French actress Isabelle Adjani. That was certainly very cool, but the small group of beauty editors and I were there to witness another performer: a fragrance.
The play was Opening Night, adapted from the John Cassavetes screenplay (he also starred in the film with his wife Gena Rowlands.) It was directed by Cyril Teste, who tapped close friend and perfumer Francis Kurkdjian to scent the production. Kurkdjian has scented everything from the gardens and fountains at Versailles to the halls of the Grand Palais in Paris to the Shanghai World Expo. And this wasn't even his first play. He and Teste teamed up two years ago to scent Festen, a show that ran in Paris, but Opening Night, whose very short run at FIAF Florence Gould Hall also starred Morgan Lloyd Sicard and Frederic Pierrrot, ran for a mere four days. Rome and Shanghai are next on the calendar.
Scenting spaces has become kind of a thing over the past decade or so. Le Labo is responsible for the Gramercy Hotel's signature smoky vibe. 12.29's Samantha and Dawn Goldworm are behind the olfactive aura of the SIXTY Hotels, and they created a fragrance based on six pieces from Christie's Classic Week collection, which will scent the opening reception on the 24th. Adding fragrance to a play creates one more element that can connect the audience to its characters. The fragrance used in the show was Maison Francis Kurkdjian Petit Matin, a fresh dewy floral scent that Adjani tweaked for her character.
"Isabelle was one of my early customers," says the perfumer. "When she was rehearsing the play, she started to add a tuberose oil that she buys in Paris over Petit Matin, so that's what you smell. It's a version of what she wears every day."
The audience could smell the floral fragrance upon entering the theater, thanks to six Dyson fans that Kurkdjian and Teste rejiggered by attaching a bottle of the juice to them ("They're quiet and their airflow isn't too much," he explained). A second waft found its way to our noses when Adjani's character, a famous, if tragic, actress, speaks to her co-star about an over-zealous fan ("She even wore the same perfume as me"). Smelling the fragrance gave some extra context to Adjani's character. It was cool.
Unfortunately, another aroma also made its way to my nose. Someone in front of me was having the kind of silent-but-deadly digestive distress that one only seems to encounter in close circumstances, like on a plane. Gross, yes, but also sort of funny — and it underscored Kurkdjian's larger point. We have five senses, and scent is unquestionably one of the most powerful. Why not acknowledge it in the form of art?