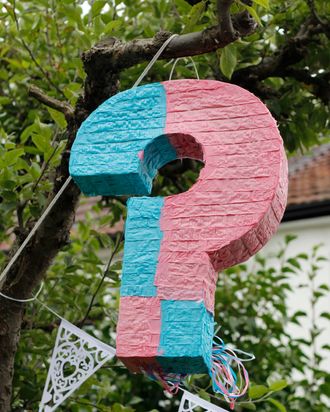 Photo: HDKam/Getty Images/iStockphoto
Gender-reveal parties often involve plenty of ridiculousness, from dyeing lasagna unnatural colors to using animals like alligators and hippos to announce an unborn baby's sex. While this fairly new concept has received criticism for various reasons, it can also pose a risk, as these parties often involve explosives. Unfortunately for a family in rural Iowa, a gender-reveal party turned lethal after a woman died from an explosion caused by the celebration.
According to NBC News, the Marion County Sheriff's Office received a 911 call at around 4 p.m. on Saturday, October 26, that a woman was seriously injured after flying debris from an explosion that was part of a gender-reveal announcement had struck her. Deputies arrived at the home — located in Knoxville, around 40 miles southeast of Des Moines — but the woman was pronounced dead at the scene. There are no further details from the incident, such as what caused the explosion, and whether it involved Tannerite, a legal explosive commonly used for gender reveals.
When the concept of these parties was first introduced, they were a lot more simple, like baking a blue or pink cake that would reveal the baby's sex once it was cut into. Over the years they evolved into more outrageous stunts that included over-the-top props and pyrotechnics. In Arizona in 2017, a gender-reveal party involving Tannerite caused a massive 47,000-acre wildfire, and in July of this year, Australian police charged a man with reckless driving after his vehicle caught fire during a gender reveal.