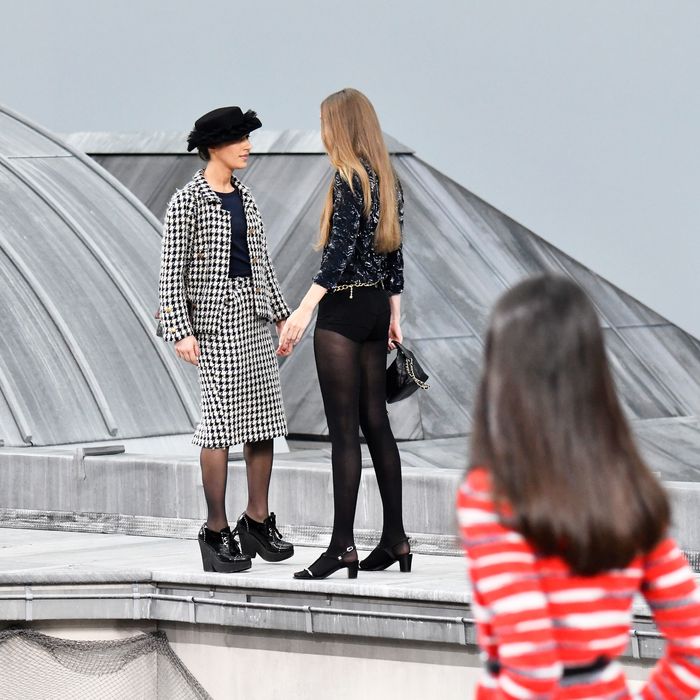 Marie S'Infiltre and Gigi Hadid.
Photo: Victor VIRGILE/Gamma-Rapho via Getty Images
Gigi Hadid gets a lot of credit for being a model — and rightly so — but rarely is she praised for her freelance work as a runway security guard.
Hadid was able to show off these skills on Monday, when a woman sprang up from the audience during the finale of Chanel's Paris Fashion Week show at the Grand Palais and sauntered onto the catwalk, preening and posing for photos. As the crasher turned off to exit the stage, she was confronted by security (Hadid), who blocked her path, appeared to tell her off, and then, with the firm, unforgiving grip of an overworked club bouncer, escorted her off the runway.
The encounter was reminiscent of a college freshman's strolling confidently into a frat party only to be confronted by a senior and asked, "Who do you know here?" But the crasher is not an aspiring model hoping to make a splash with her peers. She is Marie Benoliel, better known as Marie S'Infiltre, a French comedian and YouTuber known for her videos in which she "infiltrates" various groups, like a Marine Le Pen campaign meeting, or the time she posed as an anti-gay-marriage activist during Paris's 2018 pride parade.
Monday's stunt was likely a way to drum up interest in the one-woman show she has on now at the Champs-Elysées. She also crashed the Etam show in Paris earlier this week, though in an Instagram post Benoliel said that was nothing compared to Chanel.
Hadid has not commented on the incident yet, but she is probably celebrating with her new favorite hobby: sitting in a dingy roller chair, sipping lukewarm coffee, and watching vintage security-camera footage of teens misbehaving at the mall.