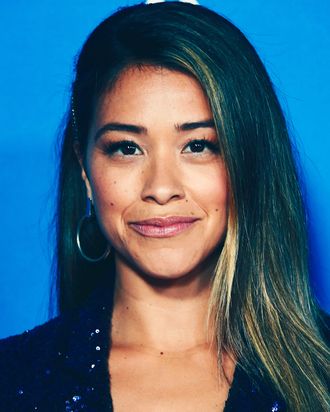 Photo: Frazer Harrison/Getty Images
Gina Rodriguez issued an apology on Instagram on Wednesday, following a video she posted on the platform in which she sings along to a Fugees song and is heard saying the N-word.
This apology follows another that Rodriguez had posted on Tuesday afternoon after backlash against the video started building, and the actor became a trending topic on Twitter. Many found her statement — in which she doesn't apologize for using the slur, but says "I am sorry if I offended anyone by singing along to the Fugees, to a song I love that I grew up on" — frustrating and insufficient.
Tuesday's video is the latest in a series of comments and actions by Rodriguez — who is best know for her role in Jane the Virgin — that have been deemed anti-black. She's faced scrutiny for a number of her statements about race and gender in Hollywood in recent years, and has been specifically accused of pitting black and Latinx actresses against each other, and of shutting down or injecting herself into conversations about the specific struggles black actresses face.
Rodriguez previously apologized for her history of comments on Sway in the Morning back in January, saying: "If I have hurt you, I am sorry and I will always be sorry, but you have to know that, until you know my heart, there's no way that we can live off clickbait." Whether Rodriguez's latest attempt to take responsibility for her actions will finally stick remains to be seen.