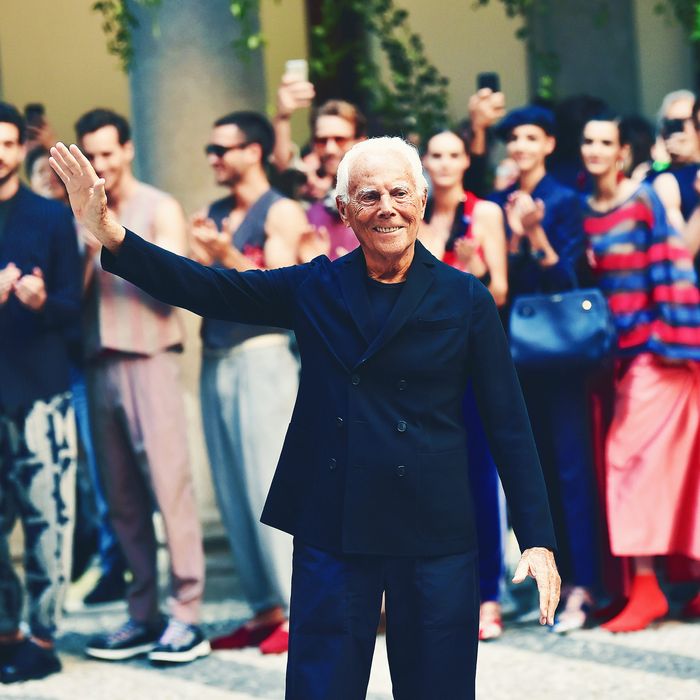 Photo: Jacopo Raule/Getty Images
On Tuesday, Women's Wear Daily hosted the fourth annual WWD Honors in New York City. The event celebrated a range of industry leaders. Fashion designer Giorgio Armani was given the John B. Fairchild Honor, named after the publication's former publisher and editor-in-chief who died in 2015. Other honorees included Mary Dillon, Ulta Beauty's chief executive officer, who was given the Edward Nardoza Honor for CEO Creative Leadership, as well as fellow-designer Stella McCartney, who was honored for her Corporate Citizenship.
At 85 years old, and after half a century in the business, Mr. Armani no doubt has a number of awards and honors like this one on his shelf. But it was a particularly nice moment for the Italian designer to be recognized by American press. Armani's name has been in the news recently, as Barneys was the first department store to carry Giorgio Armani suits before they were anywhere else stateside. He quickly went on to define power-suiting in the '80s, becoming the go-to designer for the Hollywood set: Think Richard Gere in American Gigolo. His influence continues. Now, he's a favorite of Democratic presidential candidate, Marianne Williamson.
WWD also honored the next generation. Valentino creative director Pierpaolo Piccioli was given the first-ever WWD Honor for Womenswear Designer. And Kim Jones, artistic director of Dior Men, received the first ever WWD Honor of Men's Wear Designer. Each have and will impact American fashion in their own ways, but none quite like Mr. Armani.