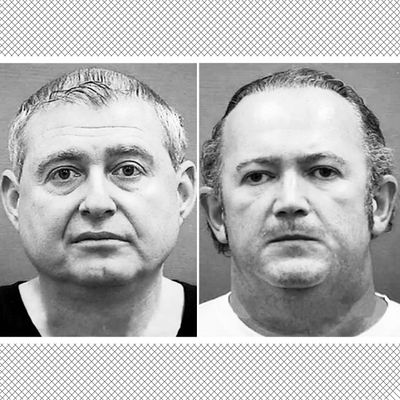 Lev Parnas, and Igor Fruman.
Photo: Alexandria Sheriff's Office
"Baby, this is your day. And it will be exactly the way you want it. Today, even the clouds cleared, if only you were happy."
That beautiful quote is the caption for a picture of five women in bikinis, posted last month to the Instagram page of a beach club in Odessa that goes by the puzzling name of "Mafia Rave." Sadly, Mafia Rave has not posted another Instagram since September. And sadly, the clouds have not cleared for its owner, Igor Fruman, who was arrested at Washington, D.C.'s Dulles International Airport on Wednesday evening with another Ukrainian-American businessman, Lev Parnas, for allegedly laundering Russian money into the U.S. election. To quote another Mafia Rave Instagram post, "Yes, we know. We know how to surprise."
Fruman and Parnas are close associates of Rudy Giuliani, former New York City mayor and current personal lawyer to President Trump. The two acted as unofficial U.S. envoys to Ukraine, connecting Giuliani with current and former prosecutors in the country who might have dirt on Trump's political rivals.
"All we were doing was passing along information," Parnas told BuzzFeed this summer, adding: "We're American citizens, we love our country, we love our president."
As far as alleged henchmen go, these ones seem particularly bumbling and indiscreet. Parnas — a man with a long history of wracking up debts who has also been accused of defrauding investors to finance a movie called Anatomy of an Assassin — operates a Florida-based company called Fraud Guarantee. And Fruman, according to the Organized Crime and Corruption Reporting Project, is "reputed to be in the inner circle of one of the country's most infamous mafia groups," a reputation he is clearly leaning into by opening businesses with names like Mafia Rave. Fittingly, the New York Times has described them as "somewhat hapless operators."
Both men have been photographed with President Trump, who, when asked about them on Thursday, told reporters, "I don't know those gentlemen. Now, it's possible I have a picture with them, because I have a picture with everybody."
Giuliani, meanwhile, told the New York Times, "I have to presume they're innocent … None of those facts that I see there make any sense to me, so I don't know what they mean."
Parnas and Fruman are expected to serve as witnesses in the impeachment hearings into president Trump. Hopefully they handle questioning better than their friend Rudy.