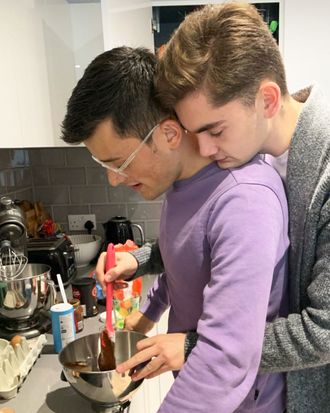 Photo: alice.fevronia/Instagram Stories
If you need one pure thing to cling to today, let it be that two sweet season-six Great British Bake Off (or Great British Baking Show in the U.S.) contestants might be dating.
Yes, Michael Chakraverty and Henry Bird, who both competed this year on the world's most palliative reality show, are possibly now a couple.
The rumors come from Instagram, naturally, after the bakers' co-star, Alice Fevronia, a geography teacher with very nice hair, posted a photo on her stories of the two of them looking cozy with the caption "BAE-ke Off."
As a Certified Relationship Sleuth with a degree in social-media investigation, I would say this qualifies as middle-grade evidence that these two are actually together. They could just be friends, and they must know that implying they were canoodling for real now would start riots in the English streets (very polite ones).
Okay, but what about this cutie post from Michael on Twitter congratulating Henry's run on the show with Salt-N-Pepa lyrics? Getting stronger …
When Michael left, Henry called him "one of the finest of men," which seems like a pretty British way to possibly say, "We're dating." (Or they're simply not.)
But what about this post that Henry made with screenshots of the two of them hugging on the show? Under which the subtitles read "THEY GROAN"?
Or this one from Fevronia on Instagram way back in September, which says, "But how many couples can you see" under a photo of Henry kissing Michael on the cheek? (For the record, the Cut officially endorses a comment on this post that says "Polycule!")
The bakers in question have yet to confirm or deny rumors. Part of being a Relationship Sleuth is accepting that you know almost nothing about the subjects of your investigations; and an even bigger part is confidently making assessments anyway. So I will continue to act like this romance is real and none of you can stop me.