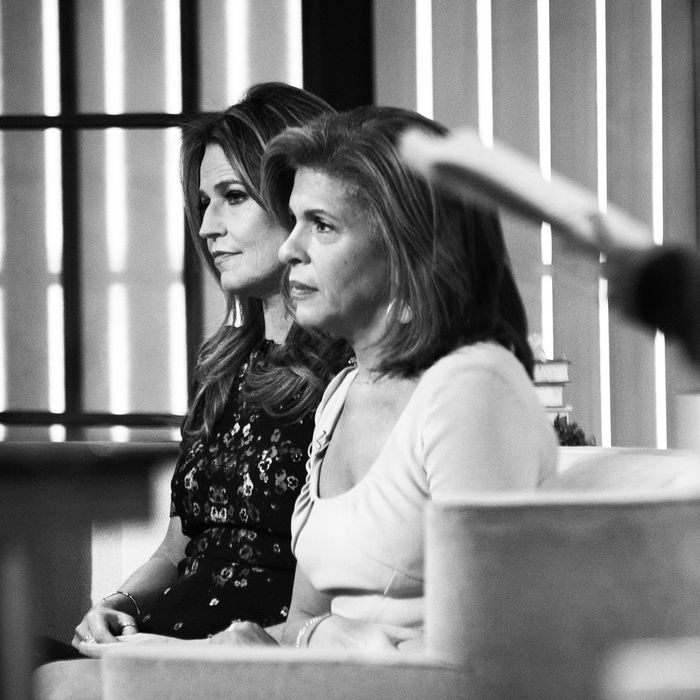 Savannah Guthrie and Hoda Kotb.
Photo: Drew Angerer/Getty Images
On Wednesday, Variety reported that Ronan Farrow's forthcoming book, Catch and Kill, contains a disturbing new allegation against former Today host Matt Lauer: that in 2014, he anally raped former NBC employee Brooke Nevils in a hotel room. (After the revelations surfaced, Lauer issued a defensive statement insisting that his sexual relations with Nevils had been consensual.) In the wake of the newest report, Lauer's former NBC colleagues have started to publicly respond to the credible rape allegation, standing in solidarity with Nevils.
The alleged rape occurred when Lauer and Nevils were covering the Sochi Olympics for NBC. At the time, Nevils was a producer, and Lauer was a well-known host with a $25 million salary; she claims she ended up in his hotel room one night, extremely intoxicated, and that he pushed her onto the bed and assaulted her after she repeatedly said no. After returning to New York, Nevils began to have casual sexual relations with Lauer. However, she says she only partook because she feared the power Lauer held over her. "It was completely transactional," she told Farrow. "It was not a relationship."
On Wednesday, Today show co-hosts Savannah Guthrie and Hoda Kotb took a moment during the program to acknowledge the accusation against Lauer, which Guthrie called "shocking and appalling."
"I want to say, I know it wasn't easy for our colleague Brooke to come forward then," Guthrie said. "It's not easy now, and we support her and any women who have come forward with claims. And it's just very painful for all of us at NBC and who are at the Today show. It's very, very, very difficult."
Kotb somberly admitted that she was still processing the allegation, and echoed Guthrie's acknowledgement that Nevils's decision to come forward wasn't easy: "I think that's shocking to all of us here who have sat with Matt for many, many years. So I think we're going to just sort of continue to process this part of this horrific story, and as you said, our thoughts are with Brooke."
Later in the day, former Today anchor Ann Curry took to Twitter to address the revelation, insisting that Nevils is "a credible young woman of good character."
"She came to NBC News an eager and guileless 20-something, brimming with talent," she tweeted. "I believe she is telling the truth. And that breaks my heart."
This wasn't the first time that the hosts found themselves needing to speak to Lauer's alleged inappropriate behavior. In November 2017, when Lauer was fired from NBC after multiple women accused him of rampant sexual harassment and sexual assault — Lauer reportedly had an auto-lock button on his office door that he used to trap women in his office — the hosts told viewers that they were devastated by the news.
This week, according to The Daily Beast, disgust has reverberated through the halls of NBC behind-the-scenes; women at the company are reportedly frustrated with executives Noah Oppenheim and Andy Lack's official line on Lauer's behavior and termination. According to Catch and Kill, Nevils reported the alleged assault to NBC's human resources department in the fall of 2017, which ended up being the complaint that ultimately led to Lauer's termination. But many at the company didn't know about the alleged rape until this past week; in November 2017, Lack said in a memo that Lauer had been fired for engaging in "inappropriate sexual behavior in the workplace."
"I shouldn't be hearing about this from Variety," one employee told The Daily Beast. Others took aim at another damning detail in Farrow's forthcoming book: that Lack and Oppenheim privately emphasized that Nevils's alleged rape didn't qualify as assault.
"Women are furious and feel Noah lied to them when he said 'no assault,'" one insider told The Daily Beast. "Noah and Andy knew all of this [about Lauer] and lied about it."
Another employee, who also requested anonymity out of fear of retaliation, put her sentiments more simply: "I honestly want to throw up."
On a company-wide call on Thursday, Oppenheim attempted to assuage NBC News employees' frustrations, but his efforts proved largely fruitless. According to The Daily Beast, Oppenheim deflected employees' questions about what, specifically, Nevils had told the network after she was allegedly raped.
"Noah, did you know what Brooke was alleging was criminal in nature?," one employee pointedly asked. In response, Oppenheim reportedly made a vacuous remark about protecting a "person's confidentiality," which left journalists on the call even more frustrated.
"It is an absolute disgrace these two [Noah and Andy] are dirtying our doorstep," a senior staffer told The Daily Beast. "We were lied to and are pissed."
This post has been updated.