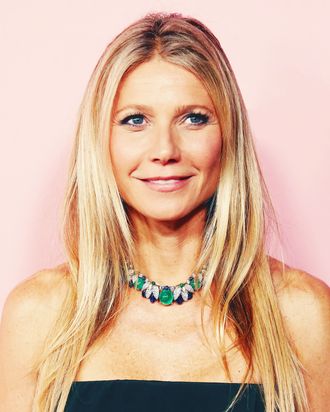 Photo: Taylor Hill/FilmMagic/Getty Images
Gwyneth Paltrow famously doesn't know stuff she should probably know. She doesn't seem to know who her Marvel co-stars are, despite having worked with them for over a decade; she didn't know she was in Spider-Man: Homecoming (she has yet to see the film); she definitely doesn't know what the Cut is; and, apparently, she's a little rusty on the products sold by her wellness empire, Goop.
In an interview last night on Jimmy Kimmel Live!, Paltrow was asked about a handful of Goop products, most of which she had almost definitely never seen in her life. Aside from Martini-scented bath salts ("so heaven"), she offered only tentative talking points on Goop's various dildo offerings but seemed completely unfamiliar with the Bart Simpson–shaped vibrator Kimmel brought out. Likewise, she was unable to explain why the company sold a water bottle containing a massive amethyst, or bottles of camel milk. "There's a lot of alternative milk on the market," she told Kimmel, referencing a Goop article about "#altmilk." "Apparently it's really from camel …" she said, squinting at the jug. "They purport to have more vitamins."
All of the products have been featured on Goop's website and in its various gift guides over the years. Paltrow, meanwhile, has remained the glowing figurehead of the company, which has, in the past, recommended practices like coffee enemas, vaginal steaming, and being stung by bees on purpose. It's possible, though, that Paltrow was putting on an act; she'd faced a similar line of questioning from Kimmel a few years ago, claiming that she had no idea what "earthing" was, how to use jade vaginal eggs for pelvic toning, or various other dubious wellness practices that Goop has built a multimillion-dollar company by hyping over the years.