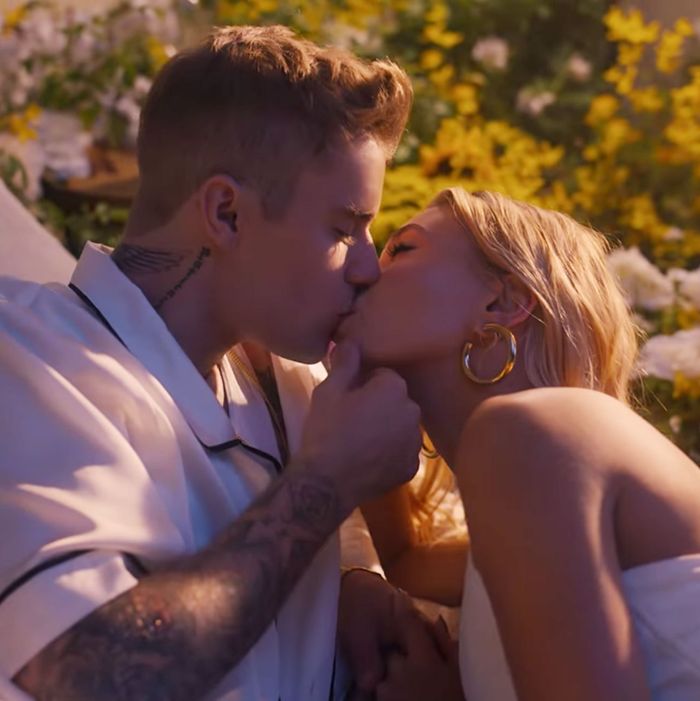 Justin and Hailey Bieber.
Photo: Dan And Shay/Youtube
A year after getting legally married in a Manhattan courthouse, Justin Bieber and Hailey Baldwin had their big Christian wedding down in South Carolina at the end of September. The ceremony was packed with celebrities and heavily guarded. Mrs. Bieber even hid underneath a giant, paparazzi-proof tent to maintain the element of surprise. On Monday afternoon, however, the bride finally gave the people what they wanted, revealing photos of her wedding dress to the world.
"Last Monday was the most special day of my life," Hailey Bieber wrote on Instagram. In the accompanying black-and-white photo, (classy), she and her now-husband embrace. Justin wears a custom black Celine suit and bow-tie; Hailey a sleeveless lace dress with a swooping back, pearl embellishments, and long train. It's a classic silhouette, but an embroidered phrase at the end of her veil, written in all caps and in quotation marks, makes the look extremely 2019. "'TILL DEATH DO US PART," it reads. Clearly, this is the work of Off-White designer Virgil Abloh. Quotation marks are his "signature."
The brand confirmed in an emailed "PRESS RELEASE" that Abloh did, in fact, work with Hailey Bieber on a custom wedding gown. "Thank you for making my vision come to life and creating my dream dress," she wrote in a caption for a second photo. "You and your @off____white team are incredible and I'm forever grateful I got to wear your beautiful creation."
"Justin has worn Hedi [Slimane]'s suits for many years and we were honored to have him make it for this," Bieber's stylist, Karla Welch told the Cut in an emailed statement.
The Biebers are both longtime fans Abloh and his work as well. Justin likes to wear Off-White hoodies over his extra-long T-shirts. Hailey, meanwhile, has walked the Off-White runway during Paris Fashion Week. So, it was a natural choice for the sweatpants-loving, 20-something newlyweds.
How much do you think this dress would go for on Grailed?