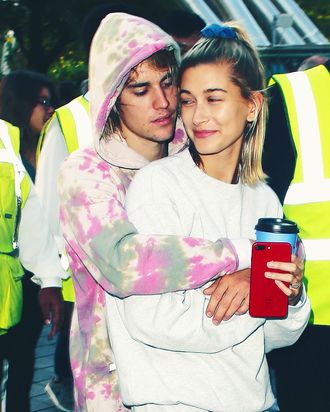 Photo: Ricky Vigil Moran/GC Images
Now that their big Christian, hypebeast-y wedding has come to a close, the Biebers have finally released the thing people care most about: photos of Hailey Bieber's wedding dress. The bride revealed her gown on Instagram yesterday — it's a classic, strapless lace dress designed by Off-White's Virgil Abloh.
Or, we should say, mostly classic. Abloh added his signature quotation marks, embroidering "Till death do us part" onto Bieber's train. Well, okay.
The Cut's fashion-news writer, Emilia Petrarca, noted that both Biebers are longtime Abloh fans; Hailey has walked in Off-White's runway shows and Justin frequently sports the brand's oversized hoodies with his oversized T-shirts. Given their history with Abloh, the train embellishment is on-brand for the newlyweds.
This was the couple's second wedding, and took place on a 20,000-acre luxury resort in South Carolina (in an interview with the Cut last year, Baldwin said she was initially drawn to a woodsy setting on the West Coast, but that was scrapped in favor of the southern bash).
We don't know much about the event itself, except that it included copious amounts of fresh juice and seemed to be either carnival- or The Notebook–themed. It was pretty star-studded, with the Jenners, Usher, Katy Perry, and Ed Sheeran in attendance. It probably also involved the couple's preferred pastimes, praying and partying.
Justin Bieber wore custom Celine, and a grille.