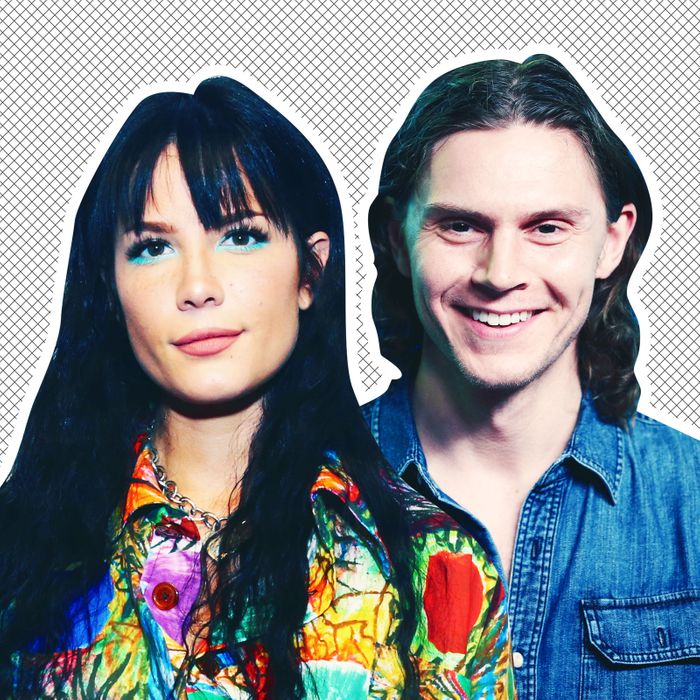 A horny tweet about a hot celebrity is a common practice by many of us on the internet. It usually doesn't require a second thought, just a half-wish whispered into the ether, echoed by kindred spirits through retweets and affirmative replies. Non-famouses and celebs alike send these tweets with nary a second thought. But, what if one of these horny tweets magically came true? That seems to be the case for Halsey, who was recently seen on what appeared to be a date with Evan Peters, the same guy she thirstily tweeted about seven years ago.
As the Daily Mail reports, Halsey and Peters were spotted "getting cozy" at Six Flags Magic Mountain in L.A., because there's nothing quite like "canoodling" with your longtime crush on a rollercoaster. "They were smiling and laughing together and looking into each other's eyes as they were waiting for the ride to start," a source told the Daily Mail.
Starting in 2012, Halsey tweeted about her attraction to Peters, then mostly known for his work in American Horror Story. Some of the tweets over the years included, "Seriously Evan Peters stop making me attracted to alleged sociopaths and accused murderers …" (probably referencing his character Tate, the teen killer, in American Horror Story: Murder House), and, "I'm a fucking liar I'm so in love with Evan Peters I'm so whipped I'm whipped as fuck!", as well as, "I just want cookies and Evan Peters," and finally, the spell she hath cast to success: "Petition for Evan Peters to Date Me."
Peters was with his AHS co-star, Emma Roberts, for seven years, before breaking up earlier this year, while Halsey dated rapper G-Eazy, and most recently, the singer Yungblud. Now, she's with the object of her horny tweeting affection. Halsey, your powers are strong. Get it, girl. May this be a lesson to us all!