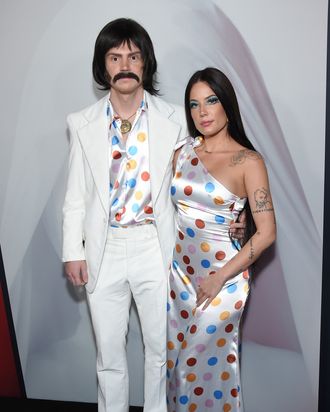 Photo: LISA O'CONNOR/AFP via Getty Images
Halsey and Evan Peters may be at the beginning of their Twitter-predicted romance, but they've already mastered the art of the Halloween couple costume.
It's technically not even October 31 yet, but the singer and American Horror Story actor have already succeeded at not one, but two perfect costumes to celebrate the holiday. As E! News reports, Halsey and Peters attended the AHS 100th Episode Celebration dressed up as '70s-era Cher and her then-husband, the late Sonny Bono. Peters wore a white suit with a satin polka-dot shirt, complete with a shaggy wig and sideburns, while Halsey wore a one-shoulder dress in a matching print and a long, pin-straight black wig. The outfits were replicas from the '70s-era variety show, The Sonny & Cher Comedy Hour. This was also Halsey and Peters's first red-carpet appearance as a couple.
But the costume that was truly *chef's kiss* was Halsey and Peters's homage to two other musical greats: Marilyn Manson and Insane Clown Posse. For her Almost Famous Halloween party, Halsey wore a white latex bodysuit, bright red wig, and red and white contact lenses, a look inspired by the cover of Manson's album for Mechanical Animals and his video for "The Dope Show." Peters, in black-and-white clown makeup and an ICP hockey jersey, pulled off the classic Juggalo look. Breathtaking.
In an Instagram photo of the two, Halsey captioned the post, "resident goths" (even though Insane Clown Posse is not considered goth and are a rap group, but I will look past the error this time).
Clearly, Halsey and Peters are enjoying each others' company. According to E!, they were "attached to each other all night." Now we just need to honor them with their own celebrity-couple nickname. Petesey? Halters?