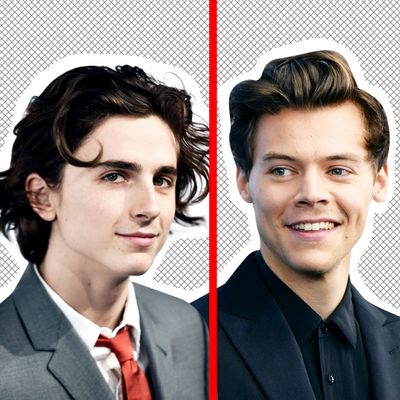 Watching the new Harry Styles music video for "Lights Up," a shirtless anthem about tripping on mushrooms and finding your identity, my neural passages were so thoroughly illuminated that I could only form one single thought: Harry Styles and Timothée Chalamet have similar hair, and when they run their fingers through it, I am incapacitated.
While fantasizing about their hair, I got to thinking about other similarities between these two beautiful boys. Which one would I choose if I absolutely had to?
It's a real Sophie's choice. They both have a sort of Young Leonardo DiCaprio thing going, with more sexually ambiguous energy. They're both around the same age — Timothée is 23; Harry is 25 — and started their careers young. They both love fashion and have dated other celebrities. They both have great bone structure, and fuzzy upper lips. Harry has dabbled as an actor and Lil Tim Timmy even had a brief rap career.
As far as I know, Timmy and Harry have never met in person. But last year, i-D magazine did the internet a favor by getting them on the phone for an interview. They talked about masculinity, being famous, the meaning of life, and of course, the peach. Turns out, they both also keep a journal. They sounded like soul mates.
Really, it's an impossible choice. But because it's Friday, we decided to go ahead and break it down, weighing the pros, cons, and smoldering stares.
Blouses or Bibs?
Because Timmy and Harry are both handsome and confident, fashion designers are dying to call them their "muses." For Harry, it's exclusively Alessandro Michele of Gucci, who outfits him in sequins and see-through blouses, like he did at the Met Gala. Timothée, meanwhile, has a special relationship with Haider Ackermann, but also has Virgil Abloh on speed dial, hence the bib he wore to the Golden Globes last year. Which do you prefer, a blouse or a bib?
Bagels or Compliments?
To promote his new single, Harry made a website called DoYouKnowWhoYouAre.com where you type in your name and it gives you a compliment. How lovely! If you were to choose Harry, he would give you compliments like these all the time with a smile and good eye contact. Timmy, meanwhile, would give you free bagels. Which do you prefer?
Stevie or Glenn?
Beautiful boys are measured by the beautiful women smiling up at them. For Harry, it's Stevie Nicks. He first met her backstage at a Fleetwood Mac concert in 2015. Get this: He got her a carrot cake, and piped her name onto it. Now, he describes her as "Everything you've ever wanted in a lady, in a lover, in a friend." Timmy also has a legend in his corner calling him by his name. No, it's not Armie Hammer. (Although, that's a bonus.) It's Glenn Close. They became best friends after meeting on the Critics' Choice Awards red carpet. Who would you let call you by their name?
China Chalet or the Pub?
Okay, time to talk logistics. Harry was born in Worcestershire, and raised in Cheshire. If that means anything to you, maybe you'd prefer to live in London. If not, Timmy can take you for bagels and a night out in New York.
Peaches or Mushrooms?
Well, what's it going to be??