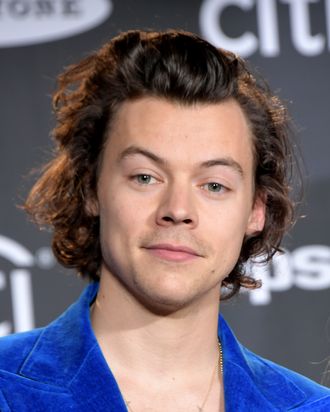 Photo: Michael Loccisano/Getty Images For The Rock and Ro
Harry Styles is arguably one of the most stylish pop stars of today, so it's not surprising to find out that his wardrobe is kept hidden away under lock and key. But I did clutch my pearls when I found out exactly WHAT level of security Styles keeps his embroidered Gucci suits and sheer, pussy-bow blouses.
In an interview with British GQ, Harris Reed, the fashion designer responsible for Styles's two-piece bespoke silk moiré suit in the music video for "Lights Up," was asked where the singer's custom one-off designs are stored.
"I can't say where it is located, but everything goes to an archive. It's basically like a giant refrigerator — a frozen vault — somewhere in London where I am not going to disclose. But the clothes all have 24 hours surveillance, which you can look at via an iPad, specifically done for his outfits, and they have all been cryogenically frozen in time to preserve them. That's also what is more surreal for me. After his first solo tour that I produced 14-15 looks for — he wore about six or seven — I was wondering where the others were and he was like, 'Don't worry, they are all under surveillance.' I was like, 'Oh, that's chic.'"
If this is not a joke and is indeed, true, I think this goes beyond chic, my friend. The fact that Harry Styles's velvet flares and ruffled shirts are cryogenically frozen in a vault — a concept I previously only associated with Walt Disney's head and Jeffrey Epstein's egg-shaped penis — surpasses any absurd levels of wealth my feeble, poor person's mind could understand. I used to think Mariah Carey and Christina Aguilera's giant closets were something lavishly eccentric to aspire to. Now, those just seem … déclassé.
My question is, where was this technology when The Nanny was around? I once interviewed the show's costume designer, Brenda Cooper, and she told me something that has haunted me forever — that Fran Drescher's outfits were all given away to a thrift store. If only someone could have put Fran Fine's clothes in a frozen vault, too!