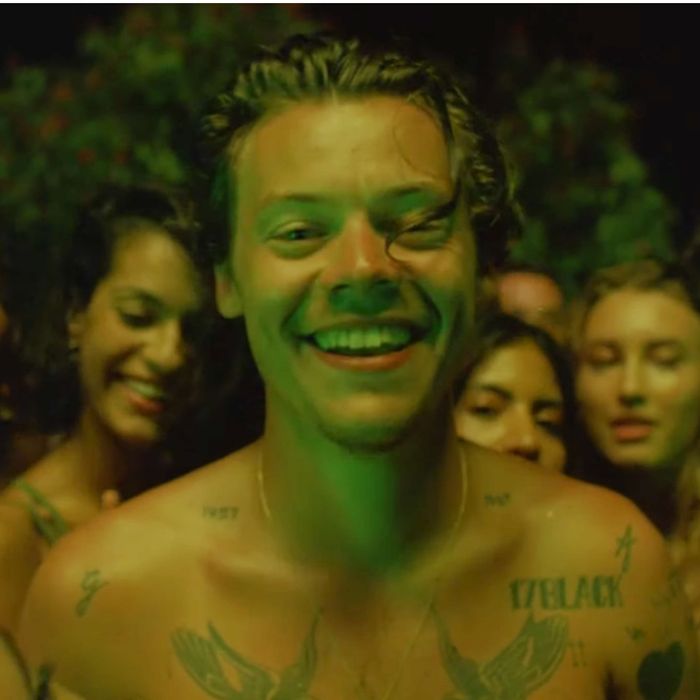 Harry Styles.
Photo: Harry Styles/Youtube
Harry Styles's new single, "Lights Up," is a bisexual anthem. It is a Taurus anthem. (I know he's an Aquarius — I stand by my assessment.) It is a group-sex-on-the-beach anthem. But above all, it is a mushrooms anthem, by which I clearly mean the magic variety.
The 25-year-old singer's love of psychedelics is no secret. In a stunning Rolling Stone profile published last month, Styles waxes poetic about shrooms in a way that would be annoying coming from truly anyone else, fondly recalling a trip where he "[listened] to Paul McCartney's Ram in the sunshine," and another where he bit off the tip of his tongue. Make no mistake: The former 1D singer is a mushroom guy, and not just someone who likes to microdose and get a little giggly — he likes to trip so hard, he sees unsettling patterns in the sky and on his hands. And indisputably, he took a healthy handful before writing and filming the "Lights Up" music video.
In the video, a euphoric Styles — who is, notably, shirtless — lets people of all genders rub up against his body as he throws his head back in ecstasy. (Shroom behavior.) The colored lights that occasionally flash, illuminating his glistening body, are bright, vivid. (Shroom vision.) In fact, just watching the video makes me feel like I'm tripping — which, to be clear, I have never done. (Oh, and one more thing: The song is titled "Lights up.")
Also, bless him for filming this video before getting his (unfortunate, sorry) bangs.