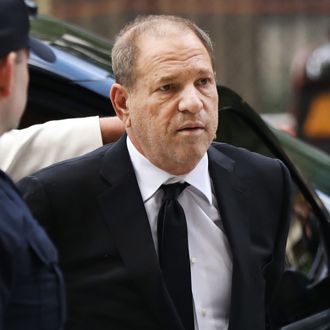 Photo: Spencer Platt/Getty Images
Harvey Weinstein's request to move his sexual-assault trial out of Manhattan was shot down by a state appeals court on Thursday.
"Now, upon reading and filing the papers with respect to the motion, and due deliberation having been had thereon, it is ordered that the motion is denied in its entirety," an Appellate Division, First Judicial Department panel said in its short decision.
Weinstein's lawyers previously claimed in court papers that he couldn't get a fair trial here because of extensive media coverage and possible jurors' liberal leanings. They wanted the case to go before a jury in Albany, Suffolk County, or elsewhere in the state.
"An internet search of the New York Post's 'Page Six,' a mainstay of local New York City news, and the name Harvey Weinstein in 2019 yields over 11,000 hits," one of Weinstein's lawyers, Arthur Aidala, argued in court papers.
"Political, cultural, and social organizations with headquarters in Manhattan ('Me Too' and 'Time's Up') were catapulted to prominence as a direct result of Harvey Weinstein's arrest in this case, and New York City is ground zero in their activism, with such activities as the so-called Women's March and the rallying cry 'Believe all women,' a position that is antithetical to due process," Aidala also claimed. "Polls show that this activism disproportionately impacts the opinions of Democrats, the largest demographic group in New York City, on central issues in this case."
Prosecutors had disagreed with Weinstein, claiming in prior response papers that his team "contributed to the media coverage they now complain about by making extrajudicial statements about the case, portraying the defendant as a scapegoat who has been targeted by the 'Me Too' movement, thus employing the well-worn strategy of trying his case outside of the courtroom."
Weinstein presently faces five counts in Manhattan Supreme Court, including two counts of predatory sexual assault, one count of a criminal sexual act in the first degree, one count of first-degree rape, and one count of third-degree rape. His trial, which has been repeatedly delayed, is scheduled to start on January 6.
Weinstein has maintained his innocence.