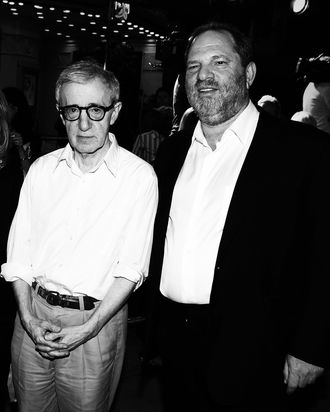 Woody Allen and Harvey Weinstein.
Photo: Kevin Winter/Getty Images
By the fall of 2017, Harvey Weinstein was panicked. The mogul had gone to great lengths in an attempt to quash dual investigations into the sexual-assault allegations against him, including by allegedly hiring ex-Mossad operatives to help him undermine accusers, and by threatening journalists with lawsuits. But he wasn't getting the results he wanted. So, in a last-ditch effort to shut down the reporting — which eventually came out in October of that year, in the New York Times and The New Yorker — he reportedly turned to an unlikely source who he believed could help him: director Woody Allen.
In his new book Catch and Kill, Ronan Farrow — Allen's son, who reported the New Yorker's Weinstein story — writes that Weinstein was seeking a "strategic playbook" from Allen, and not just to help him shut down his accusers. He also wanted help specifically dealing with Farrow, who he was trying to argue had a conflict of interest in reporting the story because Allen, from whom Farrow is estranged, had helped Weinstein's career nearly three decades earlier. (Weinstein also threatened to sue Farrow.) So, in early October — before the Times and The New Yorker published their reports into his alleged behavior — Weinstein reportedly called up Allen, looking for any help he could get.
"How did you deal with this?" Weinstein allegedly asked the director, who has long been accused of molestation by his adoptive daughter Dylan Farrow. The disgraced producer also reportedly asked Allen to intervene on his behalf, a request the latter swiftly turned down. "Jeez, I'm so sorry," Allen reportedly said. "Good luck."
But, as Farrow notes in Catch and Kill, Weinstein was able to draw on Allen's experience as the subject of sexual-abuse allegations — just in a less direct way.
"That week, Weinstein's credit card receipts show his purchase of a book of interviews with Allen, written by a die-hard fan of his, documenting all of the arguments Allen and his army of private investigators and publicists had come up with to smear the credibility of my sister, the district attorney, and a judge who had suggested she was telling the truth," Farrow writes. Around the same time, Weinstein was also reportedly calling up Farrow's sources, attempting to intimidate them.