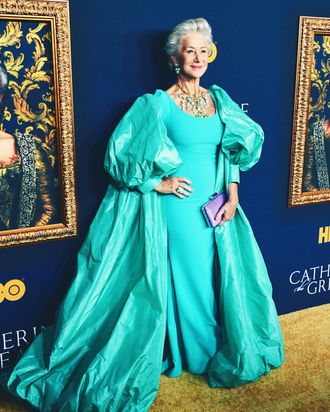 Helen Mirren
Photo: Jon Kopaloff/Getty Images
Helen Mirren doesn't just excel at portraying regal women on the screen — she can dress like one, too.
At the Los Angeles premiere of Catherine the Great last week, the 74-year-old actress — and actual dame — stepped onto the red carpet wearing a dramatic look that few could pull off: a scoop-neck, formfitting turquoise gown and taffeta coat with majestically puffy sleeves, both by Badgley Mischka. (One of her favorite labels.) To accessorize, she wore a chunky aquamarine necklace with a matching ring and earrings by David Webb, which altogether reportedly cost $250,000. Not a single part of her look was understated — on the contrary, it was quite the opposite. Against all odds, she manages to stun in a look that would make me, for example, look like a goofy, bloated sea creature.
But of course she can pull it off; we wouldn't expect less. This is the woman who cuts her hair with kitchen scissors. Who can effortlessly ether Donald Trump. Who once took a tequila shot on the red carpet. What can't she do?