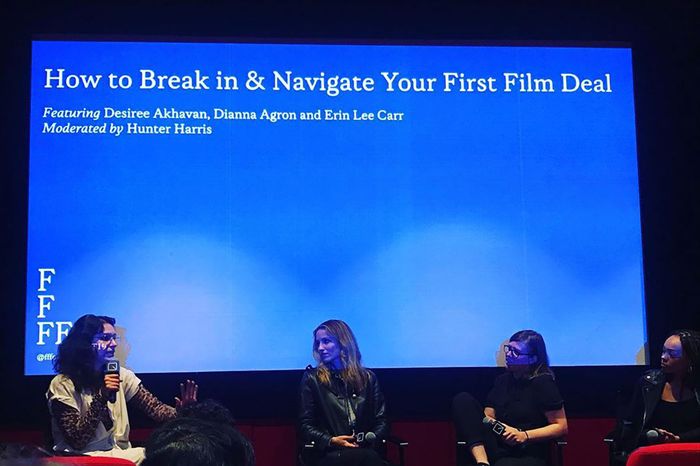 Photo: Vinyl Foote Productions
This past Sunday, students, aspiring filmmakers, and fans crowded into an cozy theater at Quad Cinema for the "How to Break in & Navigate Your First Film Deal" panel at FFFEST — a festival providing a platform for filmmakers to share guidance, inspiration, and normalize women in positions of power in filmmaking. Vulture staff writer Hunter Harris moderated what was a vulnerable, honest discussion between female directors Desiree Akhavan, Dianna Agron, and Erin Lee Carr. Each spoke of their experiences starting out in the business, the importance of loving your craft, and how to build confidence in an industry dominated by men.
Keep reading for insights from the talented creators.
Desiree Akhavan, film director and actor
" I think a more insecure woman would have been like: 'I just have to take the biggest work that comes, what's the biggest payday, and what are the biggest studios' … But actually doing well in this work requires a lot of confidence and swagger, and saying that I believe in the inevitability of my success and that I'm not going to waste my time proving to you how great I am. I'm just going to build a body of work that speaks for me."
About Akhavan: She is a film director and writer, best known for her debut Appropriate Behavior, and the critically acclaimed The Miseducation of Cameron Post starring Chloë Grace Moretz and Sasha Lane, which won the Grand Jury Prize at the 2018 Sundance Film Festival. Most recently she co-wrote, directed and starred in the Hulu Original series The Bisexual.
Dianna Agron, film director and actor
"This is an industry that's [about] the awards and the dresses, and the dinners and the suits, and the this and the that … Trust me I've had plenty of fun nights that turn into morning, and then you go back to work on set and you're like but this is where this lives and dies and breathes. I almost always prefer the making and being on set, or being in a writers room … because that is where the joy comes from. And as so long as that's giving you joy, then keep that as the benchmark."
About Agron: She just wrapped director Emma Seligman's feature film Shiva Baby. She can currently be seen in the anthology film series Berlin, I Love You, which she both starred in and directed. Previous credits include Luc Besson's The Family, opposite Robert De Niro and Michelle Pfeiffer, Dreamworks feature I Am Number Four and Zipper for producer Darren Aronofsky. Dianna came to prominence as Quinn Fabray in Ryan Murphy's hit Fox series Glee.
Erin Lee Carr, film director, producer, and writer
"I have been totally propelled by rejection, just like most creatives…My dad said: 'Keep close the people that doubt you. They are your friends. They will keep you going.' And so I think I have like this index card of people that doubted and I think of them when I'm trying to do stuff….I guess I don't feel fear from it. I feel a propulsion. I feel confidence."
About Carr: She is a New York based director, producer and writer. Her latest documentaries, At the Heart of Gold and I Love You Now Die , both for HBO, had their world premiere at the 2019 Tribeca & SXSW film festivals, respectively.