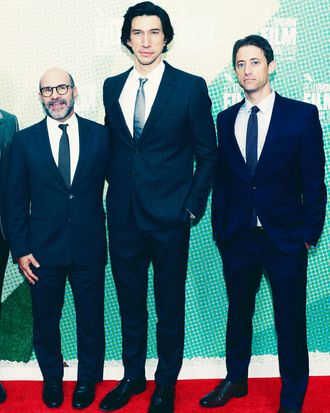 Photo: John Phillips/Getty Images for BFI
Adam Driver, king of my heart, is famously large. Barrel-chested and big-faced, he towers over everyone and everything like a hotter BFG.
Finally, thanks to a new profile of the actor in The New Yorker, we know a little bit more about Driver's largeness, something that has intrigued us here at The Cut for a long time.
First, Adam Driver was born large, and now stands at a cool six-foot-three. Second, at age 18, he joined the Marines, where he trained as a mortarman for two years. This, I can imagine, involves the sort of physical demand that makes you more large. He was also in a fight club with his friends as an adolescent, after first watching Fight Club, a venture that probably added to his size before it was dissolved by local law enforcement.
Additionally, he exercises, but in the way that a superhero might. As the profile notes, when Driver was a student at Juilliard about ten years ago, he would "run five miles to school every day" and do push-ups "by the hundreds in the hallways."
We should also note that Adam Driver eats a ton. Back at Juilliard, he "ate six eggs for breakfast (minus four of the yolks) and an entire chicken, from Balducci's, for lunch." And then there's his preshow routine (he recently starred in a Broadway revival of Burn This, where next to Keri Russell he looked massive), which involves reading poetry and dunking his head in cold water but begins with eating a burrito bowl.
His size, which the New Yorker appropriately calls "a riddle of nature," is probably the result of more than just protein and vigor, but this is what we know as of today. That said, we'll be sure to keep an eye on this mystery as more information comes in. Stay tuned.