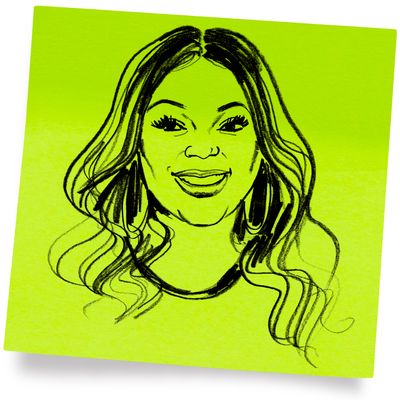 Angelica Nwandu.
Illustration: Lauren Tamaki
Doing the Most is a special series about ambition — how we define it, harness it, and conquer it.
Angelica Nwandu is the CEO and founder of The Shade Room, an Instagram-based media company that reports on celebrity news, gossip, and black culture. She started the company in 2014; two years later, thanks to a mix of irreverent entertainment coverage and a few plum breaking-news moments, TSR was hailed as the TMZ of Instagram, and Nwandu, the "Oprah of our Generation." Currently, The Shade Room has more than 16 million followers on Instagram alone. Nwandu, who is 28, lives in Los Angeles with her sister (who also works for The Shade Room). Here's how she gets it done.
On a typical morning:
What I try to do when I wake up is pray first. But what usually happens is I go and I work out first. Lately that's been my new habit. When I want to run, I usually get up at 7 a.m. I hate the gym. I like to work out in nature because it feels like a spiritual experience. It's like I can connect with God. Having the sun on me and just breathing fresh air helps me with the creativity. I notice when I start my morning off like that, the rest of my day is just calm. Sometimes, I'll run around Hollywood, which my sister feels is the most embarrassing thing. She's like, "People are watching you." And I'm like, People are watching me lose weight and take care of my body. I think that's a good thing. I can't be embarrassed by that.
On staying healthy:  
I used to be really unhealthy. I had diabetes and endometriosis. It used to get in the way of my work because I would get sick a lot. Literally every month I'm sick, so I don't have a choice but to work out. And I've noticed that my life is changing. I'm a much calmer person. I'm more clear-headed. I solve problems better because of working out.
On housekeeping:  
I live with my sister. Nobody cooks in the house. Like, I just learned how to make chicken the other day. Typically we eat out a lot. We eat at restaurants. It's really bad, honestly. She doesn't do chores, unfortunately. We have a housekeeper.
On organization: 
I'm not organized at all, I'm going to tell you that right now. Sometimes you have to see what you're good at. We should improve on things, of course, but for some areas you can just hire somebody to help you, you know what I mean? My assistant has to lie to me and tell me my meeting is an hour earlier for me to be on time. So I just leave that in her hands. She's the organized one and I just allow her to organize my life.
On the myth of inbox zero:
Let me see how many unread messages I have — almost 900 unread messages right now! I'm so used to the clutter now that it doesn't bother me. I'm just skipping over a lot of texts, since you have to. I can't respond to 800 text messages right now. But it's hard to manage. I'm trying to figure out a way. Maybe I need to get two phones or something like that.
On being a manager:
Managing people is the hardest thing to do. It really is an art, and I feel like have to learn every day. Literally, I have to read books. I've taken classes and I'm not done. Here's my issue: I'm very nice and I'm very kind. It's hard for me to put my foot down and say, "Hey, this is what needs to be done." So because of that, I have issues creating a strict work environment. I'm working on being more assertive and being less easygoing to make sure that the work gets done.
On dating: 
I actually do make a lot of time to date, but it's changed. Before The Shade Room, the guys that I would meet would never want to talk about marriage. After The Shade Room, the issue that I'm running into is I meet a lot of guys who want to get married fast. Sometimes I don't think it's for the right reasons. I think the last four guys I've dated wanted to get married in like three months or less. It's like a curse. I meet a lot of people who want to use The Shade Room as a platform. They'll be like, "Oh, can you put a post up on the date?" It could be rappers, producers, it could be anybody. Now my main strategy is not even telling them what I do and just saying I'm a writer.
Last Thanksgiving, my aunt said a prayer. She said, "God, please send Angelica her husband." Everywhere I go, people are like, "When are you going to get married?" We don't have patience. I have this fear that I need to be married before 30. You don't have any control over when you fall in love. You have to let things happen and just be patient and understand that everybody's timeline is different.
On being a black female CEO: 
The most challenging part about my job is being a black female CEO. I feel like in this industry, I get treated differently than the men. You'll have like Harvey Levin [the founder of TMZ]. I think that people respect TMZ and they respect the owner for what he does. It's different with me. Also, serving the black community, primarily, the respect level is not the same. Just to give you an example, TMZ put out an article one time about a celebrity. It was their exclusive and they wrote that this celebrity was arrested. We picked up the article from TMZ and we posted the same exact thing, the exact same story. But that celebrity decided to post my picture, call me fat, call me ugly, come at me. It was like, wait a minute. What about the Harvey? This is his exclusive! There's just more respect for men, and there are a lot of men running this industry.
On reading:
Oh my God. A date to Barnes and Nobles would be a dream date. I love books. I can't tell you how much I love books. I read so much: self-help books, spiritual books, business books. I read the Bible. The Bible is one of my favorite pieces of literature to read. I do a lot of reading and I have a lot of conversations. I talk deep.
On unwinding:
I don't unwind, that's the problem. My job is a lot of fun. I'm almost mad that I have to go to sleep. If I could not go to sleep and think about this all day, then I would. But I get stressed, I hit breaking points, I travel too much. When I do, if I don't want to go to work that day, I won't go to work that day. If I say, "Hey, I want to be in the bed all day," I'll be in the bed all day. I'll cancel the trip. I put myself first in that way. The benefit of being the head of a company is that you have that freedom to say, you know what? No. I try not to do it last minute, though.