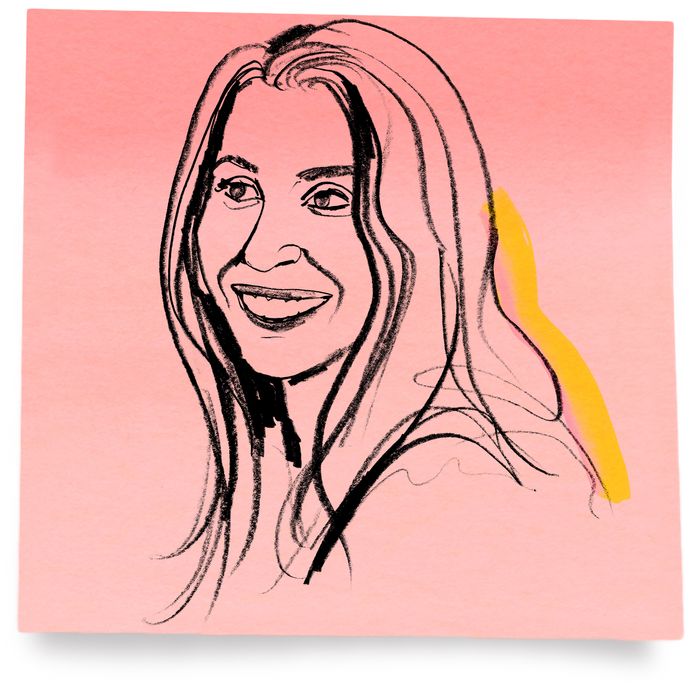 Jenny Fleiss.
Illustration: by Lauren Tamaki
Doing the Most is a special series about ambition — how we define it, harness it, and conquer it.
Jenny Fleiss is the co-founder of Rent the Runway, which she started with Jenn Hyman in 2009 for women who wanted to wear designer clothes but didn't have the money to shell out for every single event. The company, which was the first of a slew of clothing-rental services, is currently valued at $1 billion. In 2017, Fleiss left the company to become the CEO of Jetblack, a Walmart-subsidiary start-up that acts as a personal assistant via text. She lives in New York with her husband and three children. Here's how she gets it done.
On a typical morning: 
I joke that for every kid I added a cup of coffee. Now I have three kids and three cups of coffee. I have the first somewhere between six and noon. I work out every day. It's how I need to get started. I try to get up and do it before the kids wake up so I can also enjoy quality time with them. But often I'm too tired and snooze my alarm. If I wake up later, I'll go on a run with my husband or a friend or business contact. Sometimes I'll do a walking meeting or a running meeting. I really try to multitask like that and combine whenever I can. I try to make myself do yoga every now and then. After I work out, I get the kids ready for school and check emails, then I get into the office around 9 or 9:30.
On structuring her week: 
Every day is different, and I like it that way. I've started to structure the flow of my week a bit more in terms of what times of day I'm most sharp. I do data dashboards and financial reviews when I'm fresh in the morning. Typically Mondays and Tuesdays are when I try to do a lot of internal one-on-one meetings. Wednesdays and Thursdays are external meetings, so I can group them all together. Friday, I like to have a flexible day so I can have meetings or coffee with employees or customers. When it works, it's a nice balance.
On reading the news: 
I'm an adviser to the Skimm. I love what they're doing. Because it's an email, it reminds me to look at it every day. I also get news alerts on my phone. My husband and I watch CNN in the evening, and I rely on him a lot. I'll be like, "What happened today?" It's a balance of figuring out all the relevant things, but also not getting caught up in it, because there's so much news out there. I feel like it's important for me to be up on the latest and greatest start-ups and brands, so I look at Tech Crunch and have Google alerts for some of this stuff, too.
On multitasking: 
Multitasking can be really useful in terms of getting everything you need to do in a given day done. I sometimes overuse it. I'll be the person walking to work on my AirPods on a phone call while I'm texting to order something on Jetblack. It's best when I'm going for a run with my husband and we catch up while we run. Where it's hard or dangerous is if you're in a meeting and focused on some other content that's occupying your mind. That's where you need to be careful.
On self-improvement: 
Part of my entrepreneurial belief is trial and error. But it's important to be aware when you're testing. So if you're trying out a new meeting structure, take time at the end of the week to ask, "Did that work?" I work with a career coach now, and that forces me to spend three hours a month being more thoughtful about the day-to-day routines that really do impact your productivity. I think everyone should be learning every day. If I'm a little scared every day, I'm learning every day.
On using her life as inspiration at work: 
I think the lines of work and life have blurred. My tactic is to lean into the blurriness. I make kids part of my life at work. We're starting a company that solves needs that busy parents face. As a busy parent, I'm leveraging my role as a mom to serve other moms. As an entrepreneur, you're most successful if you lean into what you know. If you can relate to the need as a customer, you can evolve and solve problems that the customer faces.
Her advice to entrepreneurs:
Pull from what you know. Lean into what you're passionate about as a consumer and the problems you see in your world so you can identify unique ways to solve them. That's what we did at Rent the Runway when we were in our 20s and couldn't stomach spending so much money on a dress we'd only wear once. Now, as a busy mom, I look for ways to optimize my time. We also have a saying, "No doesn't mean no, it means not right now." In entrepreneurship you need to have a thick skin. It's a marathon and every day feels like a sprint, so you need that resilience so you can keep trying again and again. That can mean reframing how you pitch something to an investor.
On winding down at the end of the day: 
I'm typically at the office until anywhere from 6:30 to 8 p.m. I live near the office — that's one of my tricks. I try to put at least one of my kids to bed in the evening. I catch up with my husband, have a bite to eat, and watch some reality show or binge-watch some TV series. I have a lot of favorites. I just finished Sharp Objects. There's too much good TV out there. One of my hacks is that I'll wait to watch the new episode until I work out in the morning.