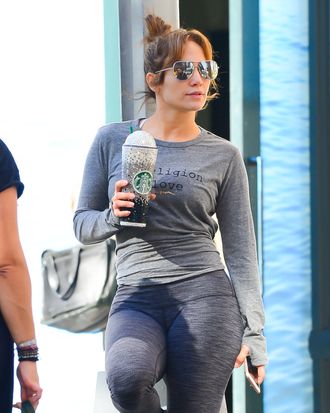 J.Lo.
Photo: Raymond Hall/GC Images
When celebrities try to be relatable, more often than not it feels like pandering. Sure, you like pizza … but you also have a Lamborghini. In general, I prefer when a celebrity leans into the ridiculousness of being a celebrity, namely by becoming a diva. It's more fun to watch as a plebe! And then when a diva breaks her veneer and reveals a basic interior, that's even better. I'm talking, of course, about Jennifer Lopez and the glittery, Venti Starbucks cup she's had since 2017.
The cup is made out of 100 percent Swarovski crystals by TaylorMade Bling Embellishments. Designer Teneka Moore has made many cups for Ms. Lopez; she also made red and silver ones for the rest of the Hustler's cast. In an interview with Vanity Fair, J.Lo said she initially received her "blingy cup" as a gift, but now she gets a new one for each shoot she's on and she carries it around every single day.
My favorite thing about the cup is that it's clearly for Frappuccinos, which is perfect because there are few drinks that are less glamorous than a Frappuccino, which is favored by teens and loathed by baristas. J.Lo is not a teen. She is the star of a hit movie, the wife of a sports star, and the impetus for Google Images. But as such, she gets to do what she wants. And clearly, what she wants, more than anything, is a large collection of commemorative Frappuccino cups covered in crystals.