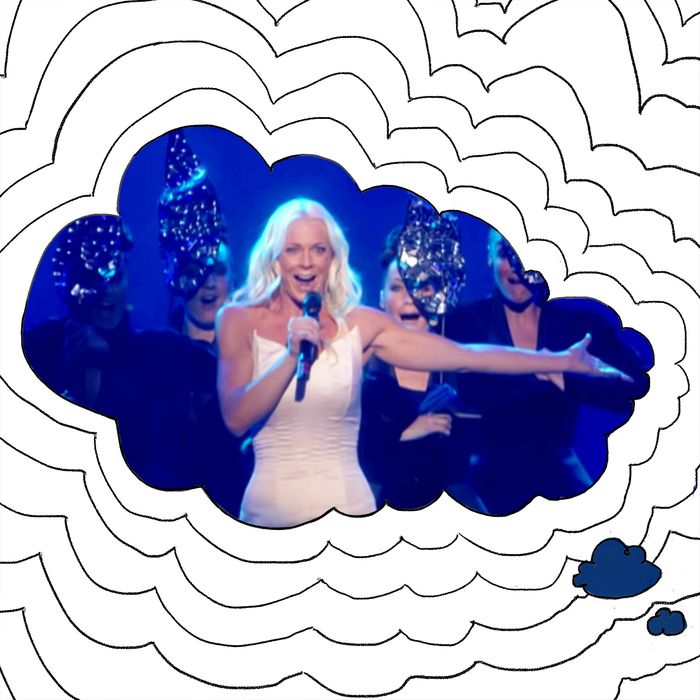 Photo: Eurovision Song Contest/ Youtube
The mission of teenage climate activist Greta Thunberg is commendable, that's a given. But the media's hysterical coverage of her as a person, as someone who ranges from deranged to straight-up morbid, has begun to overshadow her admirable achievements. She is a Christ-like figure; adult men are afraid of her; her parents have abused her; she's a communist; she's a meme.
Mostly, though, I am fascinated by her mother.
Malena Ernman is a famous Swedish opera singer. She and her husband Svante Thunberg wrote the family memoir Scenes From the Heart, which narrates the life of the Thunberg family before Greta became a prominent activist, at a time when she was plagued by a severe eating disorder and obsessive-compulsive disorder. She writes of Greta: "She was part of that minority of people who were able to see carbon with the naked eye … She saw the emissions coming out from our chimneys getting carried by the wind, turning the atmosphere into a giant, invisible landfill." But Ernman is so much more than the Scandinavian Kris Jenner. Over her decades-long career, she has earned a reputation as one of Sweden's best-known mezzo-sopranos, but she's been known to sing the occasional traditional folk song as well. But for a brief time in 2009, she moved away from her trademark repertoire to perform what is perhaps the catchiest Europop hit of the decade.
When I learned that she had attempted to be a crossover artist by performing at the 2009 Eurovision contest, I was expecting to revel in some quintessential bonkers Eurotrash performance, such as the unforgettable Dancing Lasha Tumbai or the anthem-like Dragostea Din Tei, known in the USA as "Numa Numa." But Ernman's foray into pop should be regarded as one of the highest examples of camp.
Ernman sings "La Voix" in both English and French, as she glides regally around the stage, sporting icy-blonde hair and a glamazon-worthy gown. She looks like Eurovision's version Elsa from Frozen, or a more imposing version of the 1970s Anglo-French disco queen Amanda Lear: a magnetic performer whose ambiguous androgyny made her the muse of Salvador Dalí and David Bowie.
Ernman performs in a robotic style, something akin to Cher's "Believe." But it's when she moves to the chorus that she transitions into full-fledged operatic rapture. She is almost celestial, if not for the omnipresent dance beats that make up the instrumental part. The song was composed by Fredrik Kempe, a musical-theater star in Sweden who admires Benny Andersson from Abba and who rose to fame because he starred in a remix of Puccini's "Vincerò" in 2002.
The rhythm and the melody come together to create the perfect earworm; I find myself humming "La Voix" multiple times a day, especially when I am giddy or have to take the subway. "La Voix," both in melody and execution, is deeply representative of what Europop actually is:
Irrespective of any national provenance, with electronic instrumentation, it contains emotional, soulful voices that simultaneously sound mechanical. Basically, they're incredibly catchy robot sing-alongs.
This juxtaposition of restrained verse and over-the-top chorus is the hallmark of anthem-like Europop songs that end up becoming Eurovision hits: Back in 1988, Canadian songstress Celine Dion performed a similar song, "Ne Partez Pas Sans Moi," when she participated as the contestant from Switzerland in 1988, and we can say the same about Conchita Wurst, whose 2014 hit "Rise Like a Phoenix" has a soaring chorus that rises from the demure ashes of the verse (pardon the pun, this is the theme of the song, after all). This structure makes all these songs safely dramatic; they're emotional without ripping your heart to shreds.
By listening to songs such as "La Voix," one can at least get a glimpse into European culture that goes beyond our decadent lifestyles, our innate sense of fashion, and our crumbling economy. But regardless of your stance on l'affaire Greta, at least I provided you with an earworm. There's plenty hum-along material offered here.
(Oh, and "La Voix" works great as a hard-rock cover too!)