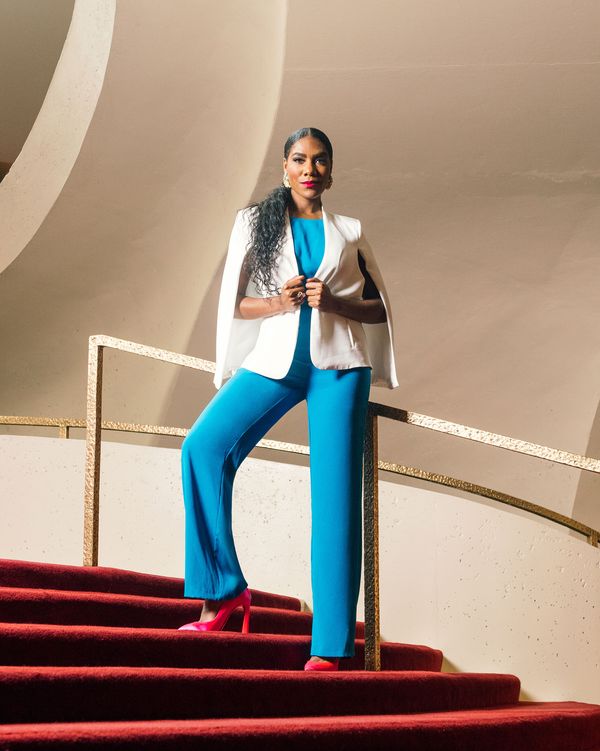 When J'Nai Bridges was in high school, she was faced with a tough decision: play in her basketball team's finals, or go to her first opera rehearsal. Thanks to some scheduling wizardry, she managed to make it to both events, only to have her coach bench her for prioritizing music over sports. Realizing she couldn't juggle the two, Bridges made the decision to focus on music. She went on to earn both a bachelor's and master's degree in vocal performance.
Basketball's loss has been opera's gain. Bridges has sung with the San Francisco, Los Angeles, and Dutch National operas, sold out Carnegie Hall, and performed with the likes of Yo-Yo Ma. This November, the mezzo-soprano will make her Metropolitan Opera debut as Nefertiti in Phillip Glass's Akhnaten. The Cut caught up with her in between rehearsals to talk about traveling with a blender, singing in gym clothes, and dressing for auditions.
On the shoes she wears every day: Usually, I love a good pair of three-inch booties, but now that I'm in rehearsal, I'm usually in sneakers. I'll switch between really fancy shoes and something more casual — it depends on my mood and what I have going on that day.
On going out after work: I definitely change! Rehearsals have the potential to be quite physical so I wear very comfy clothes that are a step up from gym gear. If I have plans, I'll wear jeans with a cute top or a slim-fitting dress and stilettos.
On her audition outfits: I'll typically wear a bold solid-color dress with closed-toe heels. Depending on the role, I'll tweak the color, length, fit, and the amount of skin I'm showing, but I want to represent who I am. Auditions can be uncomfortable, and I want to go in feeling my best.
Shop Bright Dresses
On living on the road: It's been a saga to figure out the travel aspect of my career. In the beginning, I brought almost everything I owned and was subject to overweight-baggage fees. That got old really quickly! Now I bring the basics, plus a few things I know I cannot live without: my own pillow, a portable smoothie blender, and probably more shoes than I need.
On the red carpet: I love gowns of all colors, shapes, and sizes, but my decision depends on the season and the specific occasion. If I'm wearing a piece that has a train, I'll have a friend on standby to help. And I'll always carry blotting paper — I like to shine, but that extra glow can be too much.
On her typical day: When I'm in rehearsal for a production, I wake up no earlier than 8 a.m. I have an energy-rich breakfast to get me through the first part of a rehearsal day, which is about three hours. The physical demands will dictate which type of lunch I have, but I usually eat a salad and some chocolate. Then it's another three hours of rehearsal before I head to the gym and dinner. If I'm not in rehearsals, I'll take a voice lesson or dig into my music in a practice room.
On what she wears when she's running late: I'm a fan of athleisure, but if I need to be a little more dressed up, you can't go wrong with skinny jeans and a nice blouse.
Shop Skinny Jeans
On whom she dresses for: I've always loved to express myself through clothes and accessories. I don't have a specific way of dressing, and I enjoy observing people's reactions to my style choices. I make outfits wanting people to look at me and think, That woman knows who she is, and it looks great on her.
On her style evolution: I feel less of a need to match colors now that I'm older. I like to play with different fabrics, textures, and colors.
On the last three three things she bought: A gorgeous pair of black booties by Valdini, new workout clothes from Fabletics, and a Badgley Mischka pantsuit.
Shop Similar Heels
If you buy something through our links, New York may earn an affiliate commission.