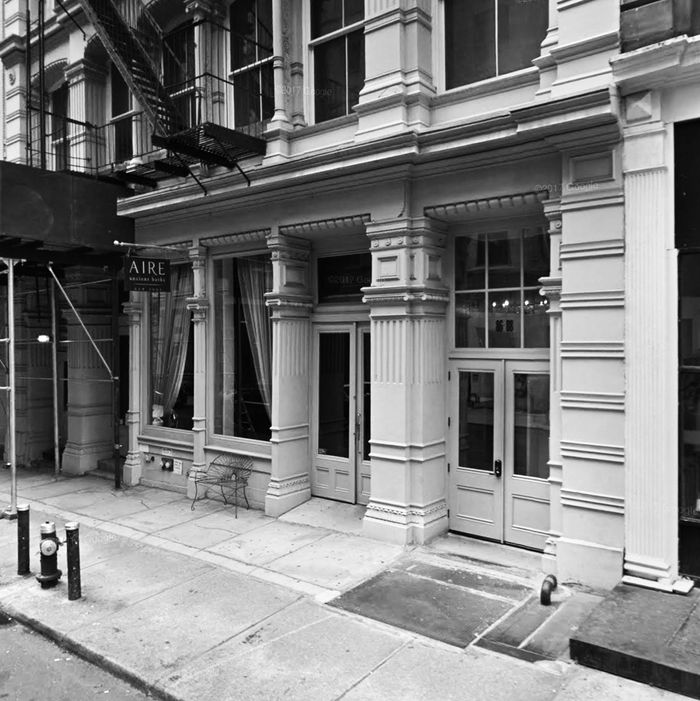 Laura Revercomb's massage was meant to be a distraction. She was losing her best friend to stage-four breast cancer, and her then-boyfriend wanted to do something nice for her. So in the rich tradition of boyfriends doing nice things, he invited Laura to a couples day at the spa.
Cavernous and candlelit, Aire Ancient Baths in Tribeca exudes drama and romance without being totally corny. Its main attraction is six indoor soaking pools of varying temperatures, jet streams, and salt levels. The spa is upscale enough that Justin Bieber is a regular client, yet affordable as an occasional indulgence for non–pop stars. Base entry is about $100 for 90 minutes in the communal baths, though the cost can rise significantly with added massages and treatments, like a $550 red-wine bath. Goop has recommended Aire for its "really great massages — some of Manhattan's best, actually."
This was not Revercomb's experience. On March 28, 2014, she says, during what was supposed to be her escape from reality, she was sexually assaulted by her massage therapist. More than five years later, she's still trying to get the spa to acknowledge what happened to her — and why it was able to happen.
"I still don't think they think they did anything wrong," says Revercomb, 43, who filed a lawsuit against Aire Ancient Baths in 2016 and is now speaking publicly for the first time. "That kind of blows my mind." A trial date is set for November.
To get a massage is to make yourself vulnerable — to put your "self-care" into a stranger's hands and trust that you're safe. The experience of stripping down in a small, dark room can inspire a new kind of anxiety in the Me Too era. And it's not just clients putting themselves at risk: Massages have been a common denominator in some of the most disturbing allegations made against powerful men, from Harvey Weinstein demanding impromptu massages from actresses and subordinates to Jeffrey Epstein using massage therapy as a cover for molesting girls.
In 2017, a BuzzFeed News investigation into abuse at Massage Envy exposed widespread sexual-assault allegations at massage chains. But independent, upscale spas like Aire have largely dodged scrutiny despite being likely to have fewer written policies and employee-education procedures in place, says Adam Horowitz, a lawyer who has sued massage chains on behalf of more than 50 victims.
"It definitely can happen everywhere," Horowitz says. "Neither Massage Envy nor some seedy spa nor some luxury spa has a stranglehold on sexual abuse."
Last year, Living Fresh Men's Spa in Manhattan was sued by a man who said management "encouraged its employees to touch clients" in a sexual manner. Around the country, lawsuits have been filed against five-star resorts like the Ritz-Carlton of Chicago and California's Fairmont Sonoma Mission Inn, where women alleged negligent supervision and improper draping techniques, respectively. (The Living Fresh and Fairmont Sonoma lawsuits are ongoing; the Ritz-Carlton lawsuit was settled.) Luxury spas have not been poisoned by bad apples, according to these victims; through gaps in regulations, they've allowed them to grow.
When Revercomb walked into Aire's glass-and-brick-walled couples massage room that Friday in 2014, she found no sheet or towel to use to cover her body, as industry standards and state regulations dictate; according to the complaint she later filed, she was given only two small hand towels. During the massage, as her therapist began incrementally moving his hands into inappropriate territory, she "froze up" in fear and shock. Revercomb alleges that he rubbed her breasts, spread her butt cheeks, touched her labia and vagina, and whispered, "I hope you enjoyed that."
Before leaving the spa, Revercomb reported her massage therapist to Aire's manager. "I remember being emotional, and I told him this person can't be around women," she recalled later in a deposition. The next day, she received an apologetic email from Silvia Barnett, Aire's head of marketing and public relations, who told Revercomb the employee had been "immediately fired."
Revercomb replied that she was relieved and grateful but wanted more information from the company. She planned to file a formal complaint with the state against the massage therapist, so she asked for his license number, hire date, and whether there had been any prior complaints against him. (This, it turned out, wasn't his first abrupt termination from a Manhattan spa following a female client's complaint, but Revercomb didn't know that yet.)
"I do not want this kind of thing to happen to anyone else. EVER. It is a matter of public safety," she wrote, describing the experience as "horrific and completely shocking."
She was then referred to an attorney for the spa, who told Revercomb that even though the massage therapist had been fired, an internal investigation had found no wrongdoing. Revercomb was startled. Aire hadn't interviewed her as part of its investigation.
Revercomb decided to report the incident to the New York Police Department. She'd been hesitant at first, which she now recognizes as strange given how many times she has encouraged other victims of crimes to go to the police: She's a human-rights attorney at the Worker Justice Center of New York, focused on labor violations. At the time, though, Revercomb didn't want to talk to anyone about her assault, let alone subject herself to the intense questioning that comes with a police investigation.
"It's like you have an open cut on your hand, and you know someone's gonna be rubbing it," Revercomb says. She went anyway, and a few weeks later police arrested Egemen Seker, a Turkish-born, then-24-year-old practicing massage therapy without a state license. A few months after that, Seker was indicted by a grand jury on charges of third-degree sexual abuse and unauthorized practice of a profession.
In April 2015, a year after Revercomb made her police report, Seker pleaded guilty to one of the charges — being unlicensed, a misdemeanor. As a condition of the plea, he was required to attend a treatment program for sex offenders (though he didn't have to register as one). In a deposition, Revercomb later said she was frustrated with this process; she just wanted the sexual assault to be on the record in some way. She'd told prosecutors she wanted to provide a victim-impact statement for the judge and was disappointed that she'd never gotten the chance. As the months went on after the criminal case ended, her friends began asking why she didn't keep fighting.
Then there were the Yelp reviews. Revercomb discovered them shortly after her alleged assault, in the spring of 2014, long before she'd begun considering a lawsuit. When she read them, she felt her stomach drop, she says. Two reviews on Aire's page prior to January 2014 — when Seker was hired — reported uncomfortable encounters with male massage therapists. One reviewer wrote that "he was not improper, but I did find some of the massage creeping a bit to [sic] close to my groin, hip, butt crack, and chest for my own comfort." Another wrote that her massage therapist "did little to cover me with the towel and spent an unnecessarily long time massaging my bum."
During Seker's three-month stint at Aire, two more reviews were posted referencing unconventional massage techniques. One customer wrote that while her massage therapist was working on her inner thighs, "his fingers touched the outer regions on my vagina" at least four times. The other wrote that her "masseur was a little bit invasive, getting a little too close to my lady parts for comfort."
These reviews also included positive feedback about the spa, and there's no indication that Seker was the massage therapist in any of these instances. But the comments had a profound effect on Revercomb, who'd been concerned about the possibility of other victims from the moment she first reported her allegations.
"In retrospect, I think it all started to sink in that maybe this was something the company knew," Revercomb says, "and they just didn't follow up on or care enough to look into."
Internal emails from Aire later revealed that after the February 2014 Yelp review — the one alleging repeated vaginal contact during a massage — the spa's manager sent the staff a stern email saying she was "personally investigating" the case. The Yelp reviewer was contacted by the spa but never replied, and no one was fired in connection with the incident.
On May 31, 2016, Revercomb sued Aire and Seker for negligence, battery, assault, and causing emotional distress, citing two of the Yelp reviews in her complaint. She wanted to make the spa and Seker "understand what they did to create a dangerous situation."
"They knew that people were getting hurt, that people were being sexually assaulted or abused, and they also knew that the massage therapists weren't licensed," says Revercomb, sitting cross-legged on the floor of her apartment in Kingston, New York, cradling a mug of tea in her lap.
From their first response to Revercomb's complaint, Aire's attorneys made the spa's position clear: She was culpable. The risks were "obvious" and were "voluntarily assumed by her," they wrote in court documents; she could have stopped it.
In a deposition, Aire's attorney asked Revercomb whether she'd encouraged Seker to continue touching her inappropriately by not saying anything to him — by freezing up. "Were you feeling you might be open to this different technique?" ("For them to suggest that, because she didn't yell out for help, she must not have been abused is profoundly ignorant and offensive," her attorney, David Shanies, told the Cut.)
Aire found it significant that Revercomb didn't leave the spa right away after her assault. Her boyfriend — who'd just gotten a massage too — wanted to spend more time in the pools, and she joined him. Revercomb said she was ashamed; she didn't want to tell him what had happened, at least until after they left. When a lawyer for Aire asked why she would feel embarrassed, she replied, "Respectfully, I don't know if you can understand that, being a man."
When Seker was deposed, he denied all of Revercomb's allegations, calling them "very offending" and "very upsetting," and his arrest "very embarrassing." His attorney did not respond to requests for comment.
The past few years of proceedings have divulged some of Aire's unconventional hiring practices. Seker had told the spa upfront that he wasn't licensed in New York, according to testimony from Nikki Mohead, an ex-employee who helped hire new massage therapists. When Mohead told her boss this, advising her against hiring Seker, "she told me don't worry about it, she would take care of it," Mohead recalled.
In an emailed statement, Aire Ancient Baths defended its hiring process, saying it followed the "strictest protocol" in firing Seker and that customers' "safety and well-being is and will always be our top priority." But the spa's hiring process also missed a key detail from Seker's past: His former employer — Bliss N Care on East 60th Street — had fired him in 2012 after a client complained of being touched "in a sexual and highly inappropriate manner," according to an affidavit. The Bliss N Care owner said he would have told a potential employer about the incident if they'd called, but no one did.
For Revercomb, spending years as a plaintiff has meant taking a lot of personal days — not only to attend those combative depositions but to prepare for and recover from them. It has meant fielding presumptive questions, such as "What are you trying to get out of this?," from new acquaintances when they find out about the litigation and undergoing an uncomfortable psychiatric evaluation ordered by the other side. It means constantly adjusting her expectations of when this whole thing will be over.
"It just feels heavy," Revercomb explains. "Like it's always there."
For the record, Revercomb says she still gets massages — acupuncture too — but only from female therapists. It's one way for her to feel relaxed when this fight seems particularly hard, as it often does. Teaching and practicing yoga also helps. Her experience hasn't completely embittered her against the booming wellness industry.
But it has opened her eyes to how these "self-care" businesses can still fail to view sexual violence as what she calls a "shared societal issue." Many such companies rely on the vulnerability, intimacy, and trust of their customers. What if they worked collaboratively with survivors, Revercomb suggests — establishing preventative measures and common-sense safety policies — instead of against them?
"To do this," she says, "there must be a willingness on the part of business owners in this industry to learn from past mistakes and engage in honest conversations."