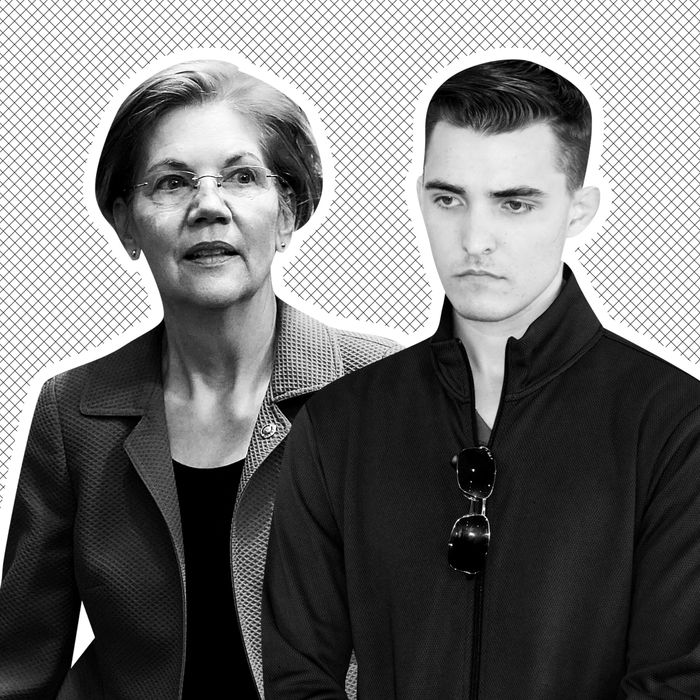 Jacob Wohl, a Trump-loving grifter with a penchant for flinging outlandish and unsubstantiated accusations at left-wing politicians, has truly outdone himself with his latest smear attempt. On Thursday, he held a press conference in his collaborator Jack Burkman's driveway, per usual, and accused Democratic presidential candidate Elizabeth Warren of having a consensual, months-long relationship with a 24-year-old bodybuilding Marine. Though Wohl is known for his disastrous press events, this one made the rest pale in comparison.
The event started out with a TV screen on a table, displaying the incredible graphic, "Elizabeth Warren Cougar?" Then a "bombshell" document was disseminated among the crowd, containing accusations by a man named Kelvin Whelly — yes, Kelvin Whelly — who did actually show up to the event, unlike other "witnesses" of Wohl's in the past. Unfortunately for Burkman and Wohl, however, he couldn't stop cracking up while reading his own statement, according to observers.
In the document, Whelly laid out a series of outrageous claims: that he met Warren via a site called "COWBOYS4ANGELS," "a site for attractive young men who provide companionship escort services to well-heeled women," and that, in August of 2018, Warren flew him to Massachusetts, where met her at a Hilton Hotel in Woburn. He also claimed, with no evidence, that she asked him to participate in BDSM play, and told him that she was in an open relationship with her husband.
He also says, incredibly, that Warren told him, "You wouldn't believe how many studs like you show up to the Congressional retreats."
Whelly also took off his shirt at some point to reveal a supposed "sex scar," which has already been debunked via his public Instagram, on which he posted a photo of the same scar with the much more plausible explanation that he "hit [his] back with a chain trying to take down a swing."
The account is ridiculous, even by Wohlian standards, and riddled with obvious inaccuracies — but on top of that, it doesn't even make Warren look particularly bad. She's not even cheating on her husband in the fake story! Arguably, all Wohl and Burkman have done here is make Elizabeth Warren sound cool. Oh, a poly sex-positive queen running for president? You think that wouldn't make Gen Z rush to the polls? Jokes on you, Kelvin.
Warren herself responded obliquely to the buffoonery by posting a very polite, nonchalant tweet about college debt in which she said it was "always a good day to be reminded that I got where I am because a great education was available for $50 a semester at the University of Houston (go Cougars!)."
Meanwhile: Hello, Mister Police? Perhaps the FBI can arrest this virgin huckster now?