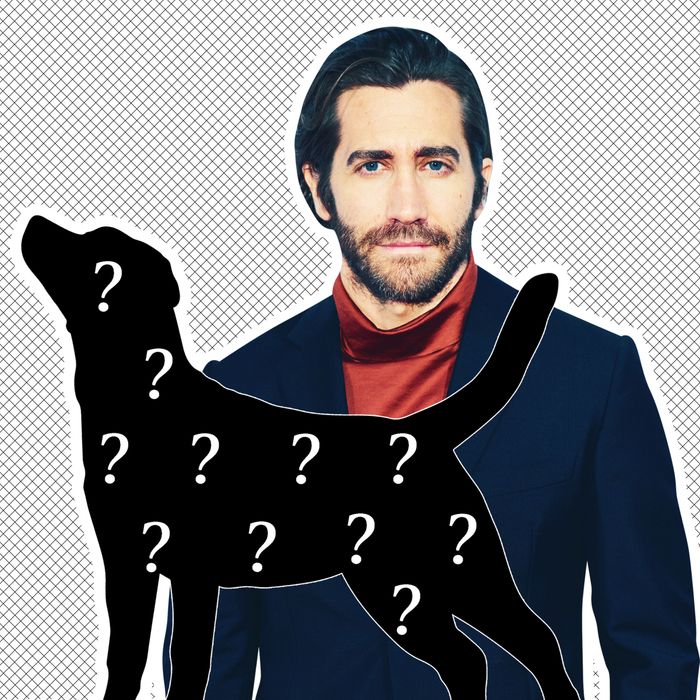 Jake Gyllenhaal, dog rescuer.
Photo: Getty Images
According to "Page Six," at around 10:20 a.m. last Thursday, actor and gold-chain connoisseur Jake Gyllenhaal saved a "giant Dalmatian" who was "standing terrified in the middle of the busy intersection" on Laight and Hudson streets in Manhattan.
Or did he? Hmm. Let's take a closer look at the story.
An eyewitness told the tabloid that Gyllenhaal noticed the scared dog while he was walking down the street with a friend. He motioned for it to get out of the middle of the road, and when it didn't move, the actor walked into the middle of traffic, calmed the dog, and led it back to its owner. The two reportedly chatted briefly about different types of leashes that would prevent the dog from getting away again.
All of this, to me, checks out. Gyllenhaal does live in New York City, and he does love dogs (as he told W magazine in 2018: "I love dogs, I just love them.") It makes sense, then, that he, a dog-loving New Yorker, would save a distressed Soho dog. What does not add up is the claim that he rescued a Dalmatian.
Don't panic, I'll explain.
Per "Page Six": "According to an eyewitness, the dog was on a leash, but had gotten away from its owner, who was too small to control the bulky beast, which the spy estimated to be about 3 feet tall."
Three feet tall is enormous for any dog, let alone a Dalmatian, a breed whose males, according to the website DogBreedInfo.com, generally top out at about two feet. Anecdotally, my grandparents had a Dalmatian when I was young, and though he "struggled with his weight" and "had terrible anxiety," he was definitely not "giant."
The story also includes a picture of incident (which you can see here), in which Gyllenhaal — wearing a gray beanie and nursing a small coffee — is handing the dog's leash back to its owner. Though you cannot see the dog's face in the picture, you can see that it is indeed white with black spots, and that it is indeed enormous — its back comes up to just below Gyllenhaal's hip. Gyllenhaal stands about five-foot-eleven, according to Google, and if we assume his hips are about half of his total height, the dog's back is, in fact, around three feet tall.
The dog in the picture is definitely not a Dalmatian. Not only is it far too big, its spots are mostly large and blotchy as opposed to small and round. Its size and coloring did look familiar, though, and after studying the picture for a total of eight seconds, I concluded that the dog was NOT a Dalmatian, like this:
It was a Great Dane, like this:
Whoa.
To verify my hypothesis, I reached out to the experts. I emailed both the Dalmatian Club of America and the Great Dane Club of America, asking them each what kind of dog they thought was in the picture. While the Dalmatian Club has yet to respond as of publication, Laurie Isaacson from the Dalmatian Club of America confirmed in an email: "You are correct that is a Harlequin Great Dane."
There you have it. Jake Gyllenhaal did, in fact, rescue a dog in Manhattan, only it was a Great Dane, and not a Dalmatian. Congratulations to him for his bravery, and to the Great Dane's owner on presumably (hopefully) having enough square footage to fit her absolutely giant dog.