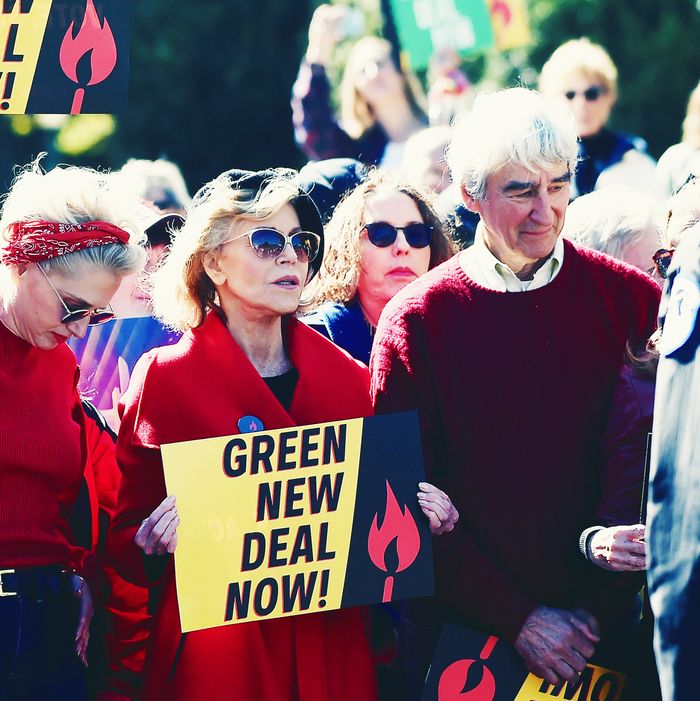 Jane Fonda and Sam Waterston shortly before their arrests.
Photo: OLIVIER DOULIERY/AFP via Getty Images
Jane Fonda, 81, and Sam Waterston, 78 — who, together, represent fully one-quarter of the regular cast of Grace and Frankie, a Netflix show about two older women starting a sex-toy company — were handcuffed by police in Washington, D.C. on Friday while attending a climate change protest outside the Capitol building.
According to Deadline, before they were arrested, Fonda and Waterston marched with their fellow protesters, chanting, "Our house is on fire! Put the fire out!" Fonda was arrested first, with police securing her in plastic cuffs as they had the week before. Waterston was arrested shortly after, and reportedly said that this was his first time being detained. "It's good to be here," the former Law and Order star said as officers searched him.
"I have to do something. I don't know. You got a better idea?" he told a reporter before his arrest.
This is the second climate protest–related arrest for Fonda in as many weeks. She was also arrested last week, and charged with crowding, obstructing, or incommoding, for taking part in the same protest, called Fire Drill Fridays. The program calls for Congress to take immediate action to address climate change by adopting the Green New Deal.
Recently, Fonda relocated from L.A. to D.C. to take part in climate protests. Originally, she wanted to take a year off of filming Grace and Frankie to do more activism work, but when Netflix's chief content director Ted Sarandos said he couldn't make it work contractually, she settled for four months, pledging to take part in 14 such drills before filming resumes.
"We have to be sure that the crisis that is climate change remains front and center like a ticking time bomb," Fonda told D.C.'s WUSA 9 last week. "We don't have very much time, and it's really urgent."
Only time will tell whether Lily Tomlin and Martin Sheen will join their co-stars. In any case, maybe Tomlin can get another clutch with a more recent mugshot of her friend.