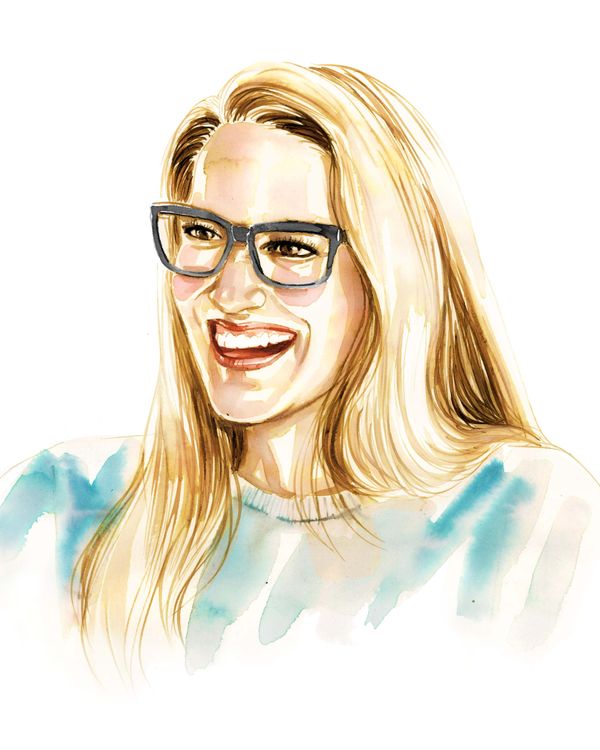 Illustration: Samantha Hahn
There's no one right approach to makeup or skin care; everyone does it a little bit differently. In You Do You, the Cut talks to women about what they put on their faces and bodies, and why.
Jane Larkworthy has tried every single beauty product out there. Currently the Cut's beauty editor at large, she's spent time at Glamour, Mademoiselle, Jane magazine (she was their first beauty director — can you tell she's kind of a legend?) and W Magazine. Despite having access to literally everything you can put on your skin, Larkworthy keeps her routine simple.
Here, she talks about her daily bath practice, her method for testing products, and the one thing that helped her insomnia.
On the three words that sum up her beauty philosophy:
I believe in sleep, laughter, and sunscreen. No miracle product will work if you don't include these three. Fine, laughter might sound a bit silly, so maybe happiness or self-love. I always feel my best when I've had a good night's sleep and someone or something is making me laugh, but there's also a tube of mineral sunscreen nearby.
On the first five things she does every morning:
I take my dog, Remy (a black standard poodle) for a walk, and make my morning drink of kombucha (Health-Ade brand, in either Tropical Punch or Jalapeno Kiwi Cucumber) and cold brew (usually Trader Joe's dark roast that we brew in a Coffee Toddy) over ice. Yes, I mix the two together in a Mason jar — about two inches of cold brew and the rest is kombucha. It grosses some people out, but I love it.
I turn on Morning Joe on MSNBC, do some work on my laptop, take a bath, rinse my face and use some form of invigorating shower gel — usually 100% Pure Eucalyptus, Seaweed Bath Company Eucalyptus, or Red Flower Icelandic Moonflower.
On baths:
I take a bath nearly every morning, except the two days a week when I wash my hair (then it's a shower). But I definitely take one every single night. Since I was a kid, I've always found baths really cozy and comforting, although I'm not a long lingerer. Ten minutes and I'm good. In the city, I rarely fill it with any oils or salts, but up in the country, it's a mini production. Lights out, lit candle (currently, it's a rotation of DS & Durga Big Sur After the Rain and Burkelman That Hudson Valley Candle) and Kneipp Dream Away Mineral Bath Salts are usually poured in. There might be a little semi-meditation, mostly an appreciation of being up in the woods and being able to see the moon through the nearby window.
On her best piece of beauty advice:
Get plenty of sleep. I used to have the worst insomnia, which I 100 percent believe I "caught" from a former boss who was always complaining about how badly she'd slept night before. Eventually, it worked its way into my own head and I started sleeping horribly. It went on for years and years, on and off. I have no miracle cure for it, except try not to fret so much, and sleep will eventually happen. I know that sounds cavalier, but when it first started, I saw a sleep doctor, kept a sleep diary, and tried all sorts of prescription drugs, none of which really worked. I think that's largely because I became so consumed with it, I wound up losing sleep over losing sleep! That said, if CBD ingestibles were around back then, I have a feeling I could have nipped it all in the bud (pardon the pun) rather tidily.
On her nighttime beauty routine:
I wash my face with Renee Rouleau Cleansing Emulsion, then use Clé de Peau Hydro Softening Lotion. Here's where it gets weird: Since I'm a beauty editor, I try different products on opposite sides of my face. I try to stick with one brand's regimen, but that doesn't always work out. Right now, I moisturize with Alpyn Beauty Calming Midnight Mask on one side, and on the other, Vertly Face Serum and Aesop's new Seeking Silence Facial Hydrator.
On her dream beauty mentor:
Berkeley-based aesthetician Kristina Holey. She's super knowledgeable and insightful. She does the buccal technique, where the therapist's fingers go inside your mouth to work on your facial muscles from inside as well as out. I'm a believer in that, both for circulation and de-clenching. She's also really funny and her own skin is perfect.
On what she would tell her 12-year-old self:
Slather yourself in sunscreen during swim team practice! Also, all that acne will go away, and your oily skin will do right by you.
Age is:
An arbitrary number that's fraught with judgement.
Aging is:
What happens when you spend too much time in the sun.
To be truly ageless:
You must be content, laugh as often as possible, and not give a shit what others think.