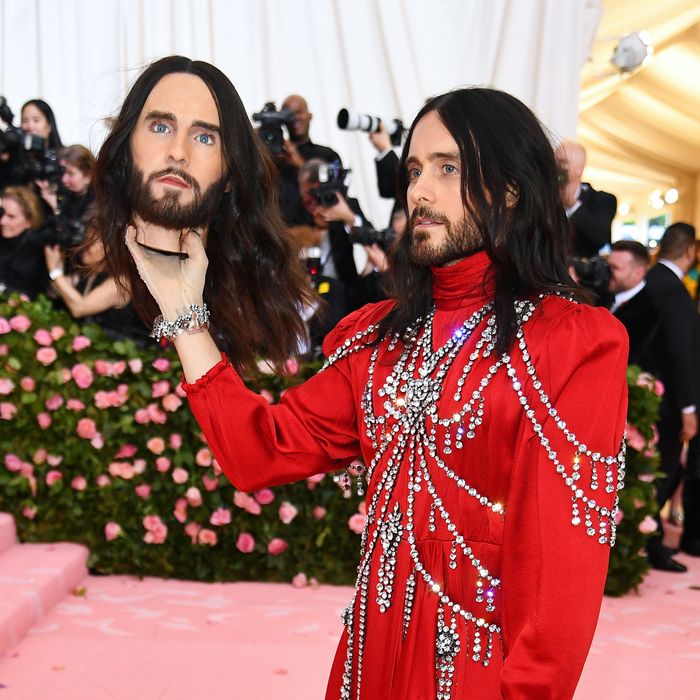 Photo: Dimitrios Kambouris/Getty Images for The Met Museum/
One of the most memorable looks from this year's Met Gala arguably was Jared Leto. Not only did he wear a floor-length, diamond-adorned, red Gucci gown, but he chose to accessorize with a replica of his own decapitated head. If you've wondered whether or not Leto still has the head lying around in order to play pranks on people or simply use for décor (Halloween is coming, after all), the answer is, sadly, no. Leto apparently lost the head the night of the party. Boooo.
In an interview with GQ, Leto was asked what he did with the head after the Met Gala festivities, and he said that he didn't have a clue. "I think someone may have stolen it," he replied. "If anyone out there finds it, bring it into your nearest Gucci store in exchange for a pair of dirty sneakers."
To be fair, anyone could have taken that head. It was passed around all night long. I did some investigating, and there is photographic evidence of the head getting into the hands of the following suspects: Shawn Mendes, Kendall Jenner, Cara Delevingne, Jimmy Fallon, Lewis Hamilton, Kim Kardashian … there's even a photo of Salma Hayek canoodling with it. Jeff Bezos, is it you? Or, maybe an old My So-Called Life fan got a hold of it, who knows?
The perpetrator is most likely aware that they have a prized object in their possession. These replica heads, which were first seen on Gucci's fall 2018 runway, can cost more than $11,000 to make. REVEAL YOURSELF, THIEF!