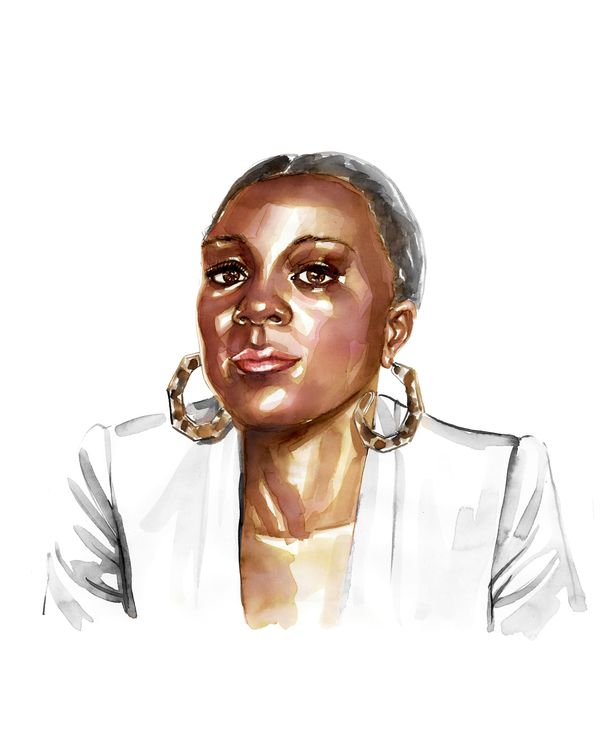 Jazmine Hughes.
Photo: Samantha Hahn
There's no one right approach to makeup or skin care; everyone does it a little bit differently. In You Do You, we're talking to women about what they put on their faces and bodies and why.
Writer and editor Jazmine Hughes joined the staff of the New York Times at just 23 — that tricky age Blink-182 warned us about. Since then, she's made the Forbes 30 Under 30 list and co-founded Writers of Color, a database that helps editors assign more diverse writers. Hughes is currently an associate editor at The New York Times Magazine, where she edits the "Letter of Recommendation" column, but regardless of which outlet is above her byline, her dedication to increasing diversity in the industry, coupled with her writing on topics many women can relate to (imposter syndrome, workplace wardrobe disasters), has earned her a dedicated fan base. Below, she talks candidly to the Cut about undertones, chemical exfoliators, and her sleep hacks.
On the three words that sum up her beauty philosophy: "Straightforward," "uncomplicated," and "moisturize." I'm not trying to be out here looking ashy. And it's not that hard to not be ashy! It's truly not that complicated: You just put on some moisturizer and you're done. I think the less I think about my skin, the better it is.
On the first five things she does every morning: I stretch a little bit and I read the blind items on blindgossip.com — it does wonders for my skin. Then I shower. And I have a lot of plants, like 25-odd plants. Usually some plants need to be watered, so I water those. I have a moisture reader now. I've really leveled up my plant game, so it'll tell me who needs to be watered.
On the one thing she wants to believe about beauty: That you can shrink the size of your pores. I would pay so much money if I could never see my pores again.
On her best piece of beauty advice: You don't have to wear mascara — you just have to keep your lashes separated. You can just use one of those mascara wands from Sephora with nothing on it and even that makes a difference.
On the thing she knows is bad for her, but she does anyway: I pick my zits. No one should do that. When I was a teenager, I was obsessed. I'm so scarred by my own pimple-popping. Literally scarred.
On her nighttime beauty routine from start to finish: If I have a lot of eye makeup on, I use Pond's Cold Cream because I'm an old lady. I do always try to take my makeup off before bed even if I am incapacitated or whatever. The good thing about Pond's Cold Cream is that you can just use that, and then your face will wake up so plump and soft like you actually did something. Then I'll usually use the Glossier Milky Jelly. After that, the Boscia Exfoliating Peel Gel that I just got. Then I use Good Genes by Sunday Riley, my holy grail product. I'm so mad that I have to be that bitch in Sephora twice a year shelling out $150 for this … crack, basically, this magic potion, but I would buy stock in Sunday Riley, I would marry Sunday Riley. I just stan. Then I'll use Cetaphil Moisturizing Lotion, very straightforward, and follow that with the Drunk Elephant TLC Framboos Glycolic Night Serum and Kiehl's Midnight Recovery Concentrate. If my skin is feeling freaky, I'll use The Ordinary Rosehip Seed Oil to calm it down. I also have the Cosrx pimple patches. That shit slaps.
On her dream beauty mentors: There are so many black women working in creative arts who I will see at gallery openings and stuff. Jackie Woodson has beautiful skin, Thelma Golden, Imani Perry, or Lorna Simpson. There are so many black artistic women in New York City that I'll see from afar at a cocktail party talking about something cool and I'm just like, Oh my god! and that's much more desirable to me than a celebrity because it seems more realistic. I don't know, they could be getting crazy facials all the time, but they're real people to me and whatever they're doing seems to be much more within my reach.
On how she sleeps: Full of guilt and anxiety! No, I try to create a calming atmosphere. I take melatonin, sometimes I'll do some palo santo, but mostly I'll just put on an episode of The Office or 30 Rock that I've seen 700 times so my brain can be tricked into not thinking about everything. At night, my brain starts going in a zillion different directions, so if I give it something familiar that it's seen consistently for the past ten years, that is a very easy way to get me to fall asleep. Honestly, I love Succession, but they all talk so fast and they're all so white that it's put me to sleep a lot of times. I have to watch every episode twice because I always fall asleep the first time around. It's so good, and it's definitely worth it, but you do have to pay attention. It's like, Oh! They don't make TV shows like this anymore! 
On what everyone should try: Going to a real beauty counter and letting someone else tell you what looks good on you.
On bangs: Girl. I should send you a photo of my high-school graduation and you'll understand my stance on bangs and braces. Two things you shouldn't have at the same time.
On her biggest beauty splurge: Definitely Good Genes so far, but I'd like to try to get a really good facial once a year. If I don't do a facial, I'd definitely go to the sauna or something, and sweat that shit out.
On wearing makeup: I wear it for myself and I often don't wear that much makeup. I would wear it for other people if I knew how to put more makeup on my face. I wear concealer, a loose powder, eyeliner, and Boy Brow. Occasionally blush and lipstick. But I'd kill to know what a highlighter does. I'd love to do eye makeup so badly. One of my little sisters is a makeup artist, which is very unfair.
On what she would tell her 12-year-old self about beauty: In the future, there's going to be these incredible things called retinoids and they'll solve all your problems! And just because you want to be taken seriously doesn't you mean you have to go buy a CoverGirl compact and look ashy. I'd be like, "Jazmine, you have warm undertones. You're warm; we're not cool; it's okay." And just because there's that one black shade on the counter doesn't mean that it matches your skin. I would tell myself, stop picking at your zits, go to the dermatologist, and don't be afraid.