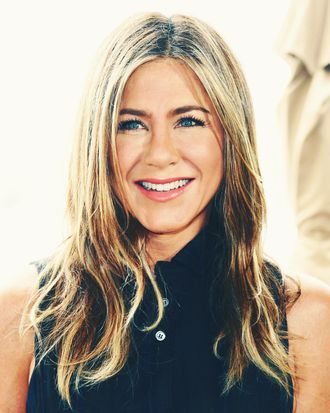 Photo: Jon Kopaloff/FilmMagic/Getty Images
Jennifer Aniston joined Instagram early Tuesday morning with a grainy photograph of herself and her former Friends cast, which looked like it was snapped on a calculator at a dinner party.
In doing so, Aniston has joined the ranks of celebrities who use Instagram the way I used Facebook in 2007, proudly posting poorly composed party snaps without any serious aspirations or overarching artistic direction.
A handful of celebrities are keeping the spirit of 2007 social media alive in their present-day Instagram profiles. One of my personal favorites is the great Glenn Close (who also also curates a profile on behalf of her dog):
Others include Snoop Dogg, whose feed is made up of memes and selfies; and Tom Hanks, who posts photos of missing gloves and socks he spots on the street, and Julia Roberts.
For her part, Aniston has been publicly hesitant about joining social media. But in a recent interview, the actor explained that she's been getting pressured by friends to sign up:
"What you resist, persists," she said, referring to the general presence of social media, "It's something that is a part of our world now and it's not going away."
She also acknowledged Instagram's ability to allow people, celebrities in particular, to weigh in on what's being said about them: "You can actually have a little bit more control over the narrative that's out there," she allowed; "[You can] right some wrongs and some silly things that, God knows, are said often."
It remains to be seen whether Aniston's feed will remain as delightfully casual, grainy, and uncurated as this first photo, which gained another 500,000 likes while writing this article. Fingers crossed that it does.