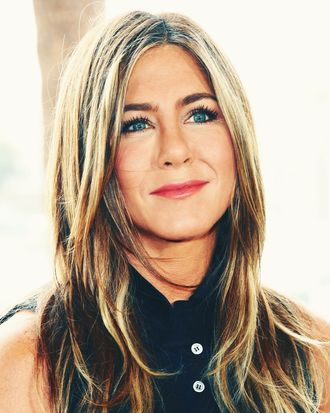 Photo: Jon Kopaloff/FilmMagic/Getty Images
In the two years since allegations of Harvey Weinstein's predatory and abusive behavior have come to light, more women in the entertainment industry have shared their experiences with the disgraced movie mogul. Now Jennifer Aniston has opened up about her own encounters with Weinstein, with whom she worked on one film, the 2005 thriller Derailed.
In an interview with Variety, the actress describes how Weinstein tried to coerce her into wearing a design from Marchesa, the fashion brand that belonged to his then-wife, Georgina Chapman. He visited Aniston in London when she was shooting the film, around the same time Marchesa had launched.
"He'd be like, 'Okay, so I'd like you to wear one of these to the premiere.' And I went through the book, and at the time, it wasn't what it is today. It was not for me," Aniston said. "He was like, 'You have to wear the dress.' That was my only bullying. And I was like, 'No, I will not wear the dress.'" (She instead opted for a beaded ivory dress from Chanel.)
Aniston also described an uncomfortable moment she had with Weinstein during a dinner for the film's premiere:
I remember I was sitting at the dinner table with Clive [Owen] and our producers, and a friend of mine was sitting with me. And he literally came to the table and said to my friend, "Get up!" And I was like, "Oh my gosh." And so my friend got up and moved, and Harvey sat down. It was just such a level of gross entitlement and piggish behavior.
When asked whether Weinstein accepted her refusal of the dress, Aniston said, "Well, what was he going to do? Come over here and make me wear it?!"
Aniston, who stars as a morning news anchor in the upcoming comedy-drama The Morning Show, also spoke about the Me Too movement as the series centers on the aftermath of sexual-misconduct allegations against her character's colleague (played by Steve Carell):
I think there's still room for improvement, but I think that kind of behavior is done. I think people have had the s— scared out of them. It's also this big pendulum. Everybody has this new playbook, and everybody's trying to figure out what the new rules are. But what's so wonderful about doing this show is that it is so unapologetically honest in terms of topics and the situations. It's basically showing all sides. It's showing how things are said behind closed doors during Me Too, that no one else has the balls to say in front of the world.