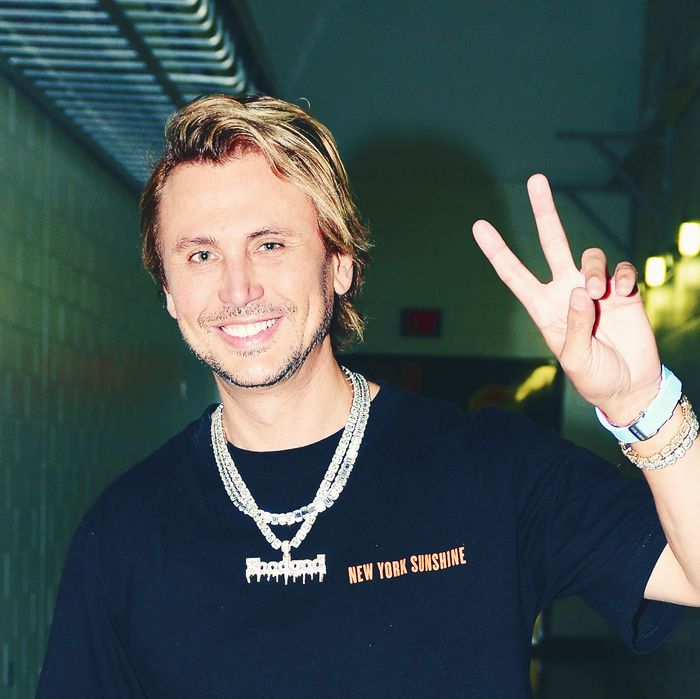 Jonathan Cheban
Photo: Johnny Louis/Getty Images
Jonathan Cheban, a man who aspires to be a Guy Fieri for "the young and hot," just got one step closer to cementing himself as one of the country's most ridiculous culinary personalities: He has officially changed his name to "Foodgod."
Last week, Cheban was spotted leaving a Florida courthouse gripping the legal name-change paperwork, having abandoned his given name for the years-old moniker bestowed upon him by the man who wants to be God himself, Kanye West. He was also, naturally, wearing one of his signature "Foodgod" black T-shirts. (Shockingly, he did not accessorize with his beloved $20,000 diamond "Foodgod" necklace.)
"It's OFFICIAL!!" he posted on Sunday, alongside a screenshot of TMZ's coverage, to his Instagram, where 3.4 million people follow his opulent eating habits. Then, he went relatively silent, perhaps because he was preoccupied with trying to live up to his new name. (Per his Instagram Story, Cheban is in New Orleans, where he's living like someone eager to get gout.) But on Monday, Cheban — or should I say, Foodgod — gave a heated interview to "Page Six," expressing frustration with those who aren't taking him seriously.
"I'm just so tired of people questioning me and really tired of people not calling me Foodgod," he said. "It's my name. Jonathan is not my name. They actually have to call me by my name, otherwise it's like they're talking about someone else. It's weird."
Though this may seem like a bold decision, devoted Foodgod fans will note that the Foodgod lifestyle is integral to his identity. In fact, Cheban has been deliberating the name-change since as early as November 2017, when he told "Page Six" that he was preparing to sign the necessary paperwork.
"Everyone calls me foodgod," he told the outlet. "Scream it in the streets and run up to me in restaurants, and I want people calling me foodgod when they write about me — not Jonathan or 'BFF.'"
I guess we shouldn't expect anything less from a man who once procured a haunting lifelike cake of his own head.
This post has been updated.