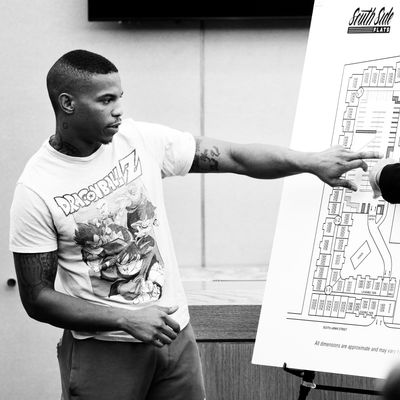 Joshua Brown.
Photo: Tom Fox/AP
Last week, the high-profile case involving the murder of Botham Jean appeared to have reached its conclusion. On October 1, a grand jury found Amber Guyger, the Dallas police officer who fatally shot Jean in his apartment in September 2018, guilty of killing her black neighbor. Just one day later, they sentenced her to ten years in prison. But on October 4, the case developed in an unexpected, disturbing way: Joshua Brown, 28, a key witness in Guyger's murder trial, was shot dead.
The New York Times reports that in the days since, Dallas police have claimed that Brown's murder was in no way tied to his role in the trial, and that it was instead drug-related. Brown's family and the activists who closely followed the case, however, haven't been so quick to trust law enforcement. Here's everything we know about about Brown's murder and the suspicion surrounding it.
Joshua Brown was shot twice.
On the night of October 4, ten days after testifying against Guyger, Brown was shot twice in a parking lot outside of his apartment and was later pronounced dead at a hospital. (At the time of Jean's murder, Brown was living in the same complex as he and Guyger, but he had moved during the past year.)
Police say it was drug-related.
In the days since the shooting, Dallas police have indicated that they believe the murder was drug-related: They say that three men drove more than four hours to buy drugs from Brown, and that gunshots broke out after the men got into an altercation. On Tuesday, Assistant Chief Avery Moore named three suspects: Jacquerious Mitchell, who is suspected of murdering Brown and is currently in the hospital with gunshot wounds allegedly from the shooting; Michael Diaz Mitchell, who was arrested in Louisiana; and Thaddeous Charles Green, for whom authorities are still searching.
His family — and the public — don't trust law enforcement's line.
Because of the timing of the shooting and Brown's integral role in the trial against a former Dallas police officer, news of his murder was met with widespread suspicion, with some people going so far as to speculate that local law enforcement orchestrated it. In fact, this theory circulated to such a degree that police acknowledged it during the news conference on Tuesday, during which Moore wrote it off as "simply not true."
But this news conference — where Moore spoke about the police's belief that the shooting was drug-related — did little to quell skepticism and frustration felt by many. "This feels like an inventive way to assassinate Joshua Brown's character," Rolling Stone writer Jamil Smith tweeted. "What's more unlikely? Guys driving four hours to buy weed, then shooting their dealer to death? Or Brown testifying in open court against a (former) cop who killed their neighbor, knowing he was a dealer?"
At the very least, Brown's family wants Dallas police to recuse themselves from the investigation.
On Tuesday, Brown's family issued a statement through attorney Lee Merritt, requesting that there be an independent probe of the shooting.
"This family and their representatives have consciously avoided speculating about law enforcement involvement in this tragedy, however, due to the proximity of the murder with the trial of Amber Guyger—rumors abound," the statement reads. "It will be nearly impossible to conduct a reliable investigation in a climate where the investigating agency has been implicated in the murder itself. That implication naturally stems from a trial where a Dallas police officer was convicted of murder and other DPD officers were shown to have participated in condemnable behavior in destroying evidence and interfering with the investigation."
Dallas police have yet to publicly respond to this request.