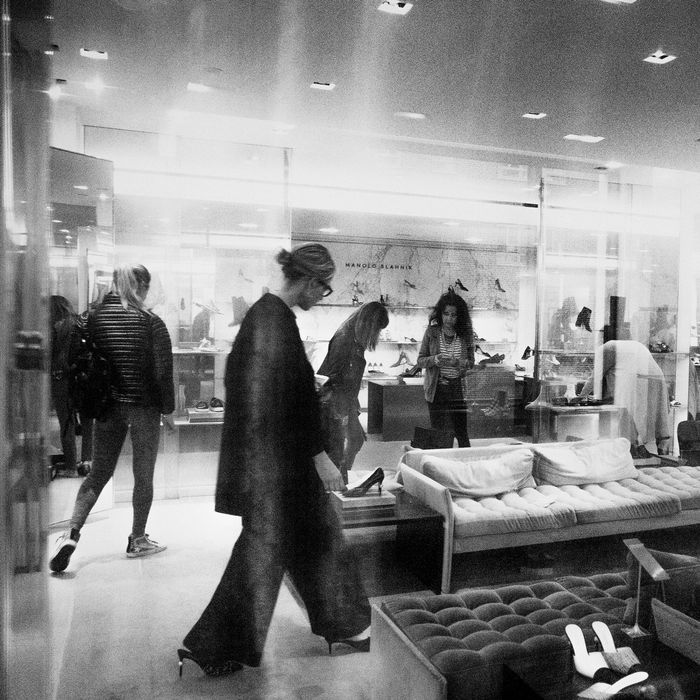 On the floor at Barneys' Madison Avenue store in October.
Photo: Devin Yalkin
The saga of Barneys New York and the open question of its future is drawing closer to a conclusion. On Thursday, a bankruptcy judge approved the sale of Barneys New York, Inc. to the licensing company Authentic Brands Group, which, with its partner B. Riley Financial, submitted a $271.4 million bid for Barneys. Authentic Brands Group, which licenses brands including Juicy Couture, Frederick's of Hollywood, and Nautica, confirmed that the judge entered the sale order and that the deal is expected to close tomorrow, November 1. Barneys had filed for Chapter 11 in August.
ABG's plan, as outlined in its bid, would close most Barneys stores and license its IP to Saks Fifth Avenue, allowing the Barneys brand to live on in some form in Saks stores — a prospect that has been met with mixed reviews. Assuming the deal does close as planned, liquidation sales of merchandise could begin shortly at Barneys' stores.
But ABG's competitors for Barneys say they haven't given up yet. Technically, though the deadline for rival bids was October 31, and Judge Cecelia G. Morris declined a formal extension, a rival bid may be entered before the deal closes on Friday.
Sources said that Sam Ben-Avraham, the trade-show owner and fashion investor whose "Save Barneys" campaign (and @savebarneys account) has been a sentimental favorite among store employees and many in the industry, hasn't given up yet and is still working to secure a bid. But the New York Post reported on Monday that two of Ben-Avraham's backers, investor Andrew Rosen and Ron Burkle's Yucaipa Companies, dropped out last week. Eitan Braham, a representative for Ben-Avraham, declined to comment on his plans or his backers.
David Jackson, chairman of the Aspen- and Dubai-based luxury-investment firm Solitaire, who has been hoping to mount a bid with backers including the Saudi fragrance retailer Arabian Oud, said on Thursday afternoon: "We are still working on submitting something more concrete tomorrow before 10 a.m. At this hour, I don't know how to handicap that but we are doing our level best."