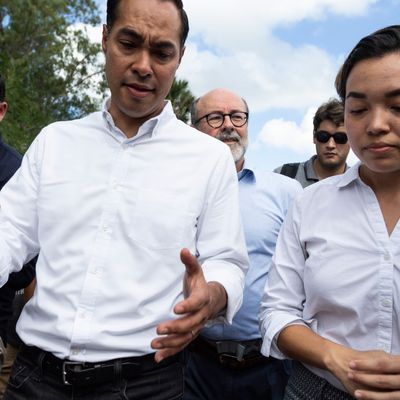 On Monday, Democratic presidential candidate Julian Castro visited a refugee camp in Matamoros, Mexico, and accompanied a group of LGBTQ and disabled migrants across the Brownsville International Bridge to petition for asylum. Castro was invited to visit the encampment by the Texas Civil Rights Project, a non-profit organization that provides migrants with pro-bono legal help.
The group was told they would have their cases reviewed, but hours after, Castro tweeted that they were returned to Mexico. "By law, these migrants are supposed to be exempt from the Remain in Mexico policy — but @CBP had decided to ignore their due process. Outrageous," he wrote.
As the Los Angeles Times reports, the group, which consisted of nine LGBTQ migrants from Cuba, Guatemala, and Honduras, as well as a hearing impaired woman from El Salvador and her relatives, had been staying in Mexico per the Trump administration's "Remain in Mexico" policy. Also known as Migration Protection Protocols, or M.P.P., the program requires asylum seekers to stay in Mexico while waiting out their immigration proceedings.
However, the U.S. Customs and Border Protection has stated that migrants from "vulnerable populations" may be excluded from the policy on a case-by-case basis. These "vulnerable" asylum seekers are supposed to include LGBTQ and disabled migrants, as well as seniors, pregnant mothers, and parents of children who have special needs, but these exclusions have been inconsistent, according to Human Rights Watch.
The policy has also put migrants in extremely dangerous situations. "There are thousands of migrants who are suffering because of Trump's Remain in Mexico policy. They are being kidnapped, extorted and subjected to violence," Castro told NBC News. "I want to speak out particularly for the most vulnerable, migrants with disability and migrants who are LGBTQ. They've been particularly hurt by this policy."
Melisa, a migrant from Honduras, told the LA Times that she was hit in the face by a stranger while standing outside of a pharmacy in Mexico. It's not safer in the camps, either, as some LGBTQ migrants have experienced harassment from fellow refugees. "The same people who are living with us discriminate against us," a 24-year-old migrant named Mary told the LA Times.
According to a tweet from the Texas Civil Rights Project, the U.S. Customs and Border Patrol released the asylum seekers back into Mexico as soon as reporters left. "There is no intention to protect migrants in the so-called 'Remain in Mexico,'" the group tweeted. "Trump's intent is to hide the cruelty of his administration away from our eyes."