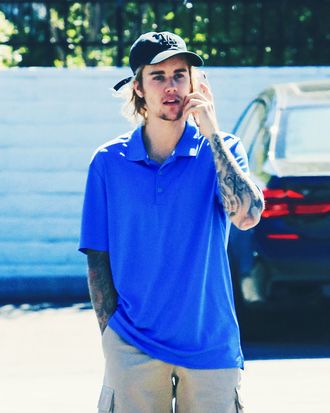 Justin Bieber.
Photo: BG005/Bauer-Griffin/GC Images
What does the inside of Justin Bieber's house look like? If you guessed that it was filled with hypebeast art, pizza parlor games, a mysterious gray fog, and no evidence of human life, you'd be right. This morning, Bieber took his Instagram followers on a tour of his haunted-Zumiez home (the newlywed noted in a few captions that he's looking to sell the Beverly Hills mansion, which he bought earlier this summer for $8.5 million and shares with his wife, Hailey Bieber). "I'll sell it with all the furniture. MAKE AN OFFER," he promises in one post.
It's unclear if the sale would also include ghosts, the singer's art collection, or various other home goods, some of which were on display in Bieber's bleak early morning Cribs tour.
In any case, before you make a bid, it's maybe worth looking at the haunted menagerie of hypebeast baubles that might be available to you upon your purchase.
Most of Bieber's home tour features the same shot of a staircase, perhaps his favorite or where he spends a lot of his time. We see it from several different angles:
Along the left side is a collection of unused snowboards, and a framed screenprint of George Condo's "Paper Faces" at the top of the stairs. It's not a bad composition overall; the photo suggests Bieber might have a taste for mixing the high and low brow.
The staircase soon takes a dark and ugly turn, though, and we see that its guarded by a caged Cookie Monster and his compatriots. Weird, cursed mist is creeping into the frame, but it's unclear if the imprisoned cartoons are resting on a bed of polyester, or if Bieber Photoshopped the image. "This is sick" reads the top comment, by Hailey Bieber. I agree.
The works are by the artist Kaws, whose signature approach involves taking beloved cartoon characters and marking their eyes and hands with X, effectively killing them (and your innocence, too).
Kaws and his emo pop art is favored by rappers and wealthy YouTubers; so Bieber's hefty collection checks out.
We also see here a print of a ghostly Mickey Mouse hand holding a Drew House–branded slide. Drew House is Bieber's clothing line, a playful, beige collection my colleague, Emilia Petrarca, once said evokes Children of the Corn.
The living room features dozens of little Kaws statues (no cages) soliciting comments of "so fresh" and fire emoji on Bieber's Instagram from other jaded Kaws fans. Another Drew-branded piece of art, a Lego Man by Idiot Art Box, is pasted on the wall, keeping with Bieber's penchant for toy-themed, '90s pop art. There's a possible cat fountain underneath it, the only embellishment we've seen for Bieber's $30,000 exotic cats (unless they live in a separate wing).
The Bieber home also features beloved Chuck E. Cheese pastime SuperShot:
Bieber then takes the tour into what I suspect might be Hailey Bieber's design contribution to the home with the introduction of yet another staircase, this one papered in the tropical print of a gentrified Brooklyn cocktail bar, complete with neon sign. We can spot a foosball table, rope swing, wine wall, and a possible dungeon entrance through Bieber's artful manspreading:
Next we move into the living room itself. It seems like maybe no one has set foot in it before: there's a crisp Louis Vuitton coffee-table book, a gray velour couch, and a piece of graffiti-ed wall art screaming "I love you!" It's how I might picture Michael Cohen's prison cell to look.
Lastly, we get to a heavily filtered image of a Burning Man orgy tent, a vision of wicker and gauze. The room is complete with bucket-sized candles, sheepskin rugs, and a massive black and white print of the Biebers making out on a beach. It's definitely a meditation room.
Clearly, the Bieber home has a lot to offer in the way of eclectic, modern style. That said, this abandoned fun house has a certain tormented emptiness about it; if you're like me even this brief tour has left you with a feeling of unpleasant ennui. Anyhow, it seems that no offers have been made, so if you're interested inheriting this former love nest — its furniture, game rooms, orgy parlor, and perhaps even some of its dead-eyed Kaws art — you're in luck.