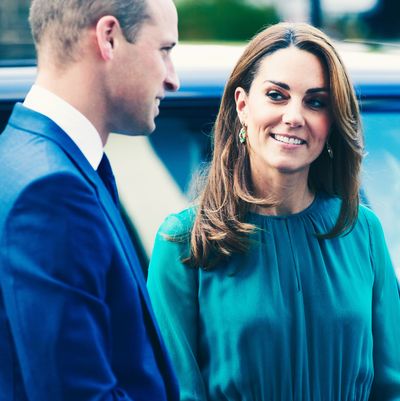 We see that look …
Photo: John Phillips/WireImage/Getty Images
On a recent trip to King's Cross to meet Pakistani Imam Aga Khan, Kate Middleton engaged in what British tabloids are describing as a "rare public display of affection" with her husband, Prince William.
To quote the Mirror: "Kate giggled and gently touched William's arm as they chatted." (I know.)
The tiny gesture sparked a barrage of headlines from the tabloids, many of which advertised that they had real video footage of the brazen PDA. "In the heartwarming footage captured on camera, the Duchess of Cambridge, 37, can be seen putting a tender hand on William's shoulder as they appear to share a joke," reads the Daily Mail's coverage. And, per another royal outlet, the gesture "had everyone talking."
Why did the gesture have everyone talking, you may wonder. Well, as the Mirror explains, the Queen prefers that all royals act chastely when they're doing royal activities in public, which means no Frenching, or cuddling, or even innocent touching, apparently. For the most part, Kate and Prince William follow this unwritten rule pretty closely, though they will occasionally engage in widely blogged-about displays of supportive lower-back patting, knee touching, and the like.
However, we know the anti-PDA rule can't be that strict — just look at how touchy Meghan Markle and Prince Harry are with each other, and all the time. They love to hold hands and walk arm-in-arm, which is bloody lascivious by royal standards. Who knows, maybe the newly emboldened Will and Kate will start opening their own car doors next.