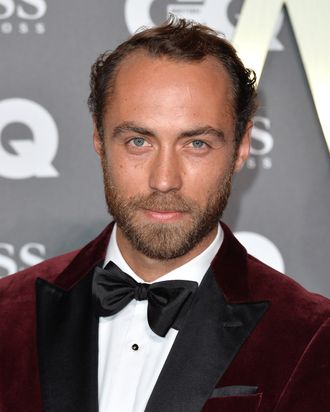 Photo: Jeff Spicer/Getty Images
Congrats are in order for James Middleton, hot sibling of Kate Middleton and friend of many dogs, and his brand-new fiancée, Alizee Thevenet.
The 32-year-old younger brother of the Duchess of Cambridge announced their engagement via an Instagram photo that showed off Thevenet's sapphire and diamond engagement ring, which may or may not be an homage to Kate's. "She said OUI. Our secret is out but we couldn't be happier to share the news," Middleton wrote in the caption, adding their celebrity couple-inspired nickname and likely wedding hashtag, "#jalizee."
As the Daily Mail reports, Middleton met Thevenet, a financial analyst, at the members-only South Kensington Club last year, when she said hello to his cocker spaniel BFF and red-carpet date, Ella. "After Alizee went back to her table, James asked the waiter to give her a note saying: 'I never normally do this, but would you like to go for a drink with me?'" a source said at the time. "It wasn't until after they'd met for a drink that Alizee realized who he was — one of her friends had to tell her. They met thanks to Ella." Ella!
Middleton also shared a video on his Instastories of himself and Thevenet kissing underwater with the caption, "I asked @alizeethevenet a question the other day …" as well as a montage of photos of the couple. Boomf, the personalized greeting card company, of which Middleton is the founder, posted a very special congrats to the couple on its Instagram page.
I can't wait to see what the dogs wear to the wedding!