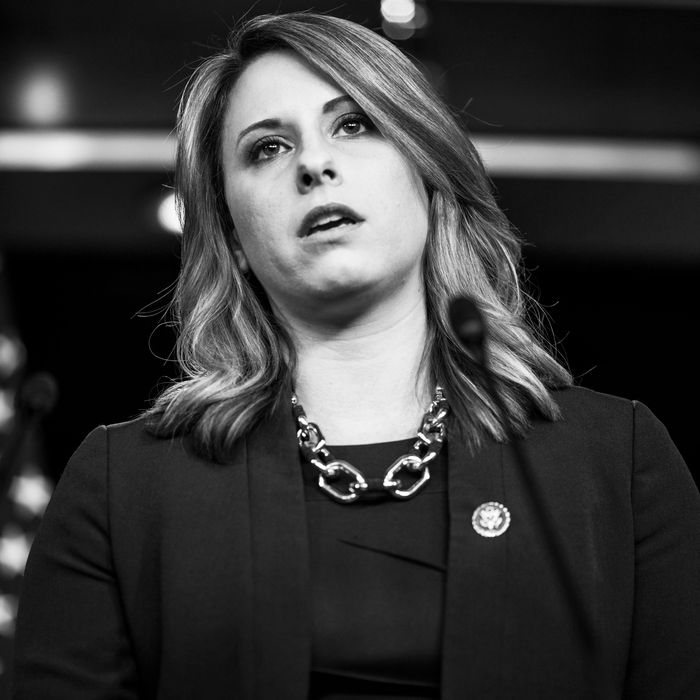 Rep. Katie Hill.
Photo: Zach Gibson/Getty Images
Representative Katie Hill resigned on Sunday, amid a House Ethics Committee investigation into her alleged relationships with her legislative director and a staffer on her congressional campaign.
"I know that as long as I am in Congress, we'll live fearful of what might come next and how much it will hurt," she wrote in a statement posted to Twitter.
Hill is a freshman Democrat from California, and is one of the first openly bisexual women in Congress. Reports of her alleged relationships first surfaced on the conservative website RedState earlier this month in a post titled "CA Rep. Katie Hill Allegedly Involved Female Staffer in 2-Yr 'Throuple' Relationship." The post included intimate pictures of Hill and the staffer, who has remained anonymous, as well as screenshots of what RedState claims are text messages between the staffer and Hill's husband, Kenny Heslep, who filed for divorce in July. Some of the text messages suggest the staffer was abused in the relationship.
"During the final tumultuous years of my abusive marriage, I became involved in a relationship with someone on my campaign," Hill said in a letter on Wednesday, released shortly after the Ethics Committee announced its investigation. "I know that even a consensual relationship with a subordinate is inappropriate, but I still allowed it to happen despite my better judgment. For that I apologize. I wish nothing but the best for her and hope everyone respects her privacy in this difficult time."
She denies, however, having a sexual relationship with her legislative director, Graham Kelly. Such a relationship would be a violation of House rules — as opposed to the relationship with her campaign staffer, which isn't technically forbidden, just frowned upon. Additionally, she says that the accusations against her are coming from Heslep, whom she claims abused her and is "determined to try to humiliate me." (Heslep has not commented on the allegations.)
The situation and its ensuing media coverage are troubling and complicated, and have raised questions about abuse, sexual harassment in the workplace, and revenge porn. Here's what we know.
Hill was seen as a rising star within the Democratic Party.
Hill, 32, is a former policy advocate for the California nonprofit People Assisting the Homeless (PATH). She ran for Congress to represent California's 25th Congressional District in 2018, beating Republican incumbent Steve Knight, and flipping what had traditionally been a securely red district.
According to the New York Times, she was a "favorite" of House Speaker Nancy Pelosi, who named her vice-chairwoman of the House Oversight and Reform Committee, a high-ranking position for a freshman representative.
She was being investigated to see if she violated new House ethics rules regarding sexual harassment.
In 2018, following the start of the Me Too movement, the House of Representatives announced new rules which prohibit sexual relationships between members and their aides. While the rules don't explicitly extend to campaign staff like the woman Hill admitted to having a relationship with, the Washington Post reports that the Ethics Committee has concluded that it has jurisdiction over "misconduct relating to a successful campaign for election to the House."
As for claims that she had an affair with her legislative director, Graham Kelly — a relationship that would fully violate the ethics rules — Hill told The Hill these allegations are "absolutely false."
In a statement, Hill wrote that she is "fully and proactively cooperating with the Ethics Committee," adding: "I am going through a divorce from an abusive husband who seems determined to try to humiliate me. I am disgusted that my opponents would seek to exploit such a private matter for political gain."
Capitol Hill police are investigating possible violations of revenge-porn laws.
In its report of the claims against Hill, RedState published three photos of her, including one in which she's nude.
"Intimate photos of me and another individual were published by Republican operatives on the internet without my consent," Hill said in a statement last week. She added that she had notified Capitol Hill police of the incident, and that they are investigating the "potential legal violations of those who posted and distributed the photos."
Revenge porn, or nonconsensual pornography, is illegal in the District of Columbia, and punishable by up to 180 days in jail.
What makes revenge porn so insidious, however, is how difficult it is to fully quash. As the New York Times reports, many Republican critics of Hill have been posting the explicit pictures of her on Twitter. The platform has removed the posts that have been reported, but users are still rushing to upload new ones.
As Kat Walker, a gun-control activist and Hill supporter told the Times, she's spent much of the past several days reporting Twitter users who posted the photo. "We worked very hard for her. I already know I'm going to have to work very hard for her again, scandal or no scandal."
Hill's congressional colleagues had mixed reactions to the news.
As the scandal unfolded, Democratic Party leadership refrained from commenting on the allegations. Some male Democrats told the Times they felt the allegations received a muted response because Hill is a woman, and that if she were a man, there would have been "an immediate uproar that would most likely have ended in a forced resignation."
Many outlets drew comparisons to the cases of former-senator Al Franken, who left the Senate after he was accused of groping women, and Texas congressman Joe Barton, who said he would not be running for reelection in 2018 after explicit text messages he exchanged with a constituent and nude photos of him surfaced online.
Following Hill's resignation announcement, Pelosi issued a statement saying that Hill "made a great contribution as a leader of the Freshman Class."
"She has acknowledged errors in judgment that made her continued service as a Member untenable. We must ensure a climate of integrity and dignity in the Congress, and in all workplaces."
Last week, Hill received a strong statement of support from Republican congressman Matt Gaetz, who suggested she was being targeted because of her bisexuality. "Katie isn't being investigated by Ethics or maligned because she hurt anyone — it is because she is different," he wrote in a tweet.
Senator Kamala Harris also said that Hill was a victim of "cyber exploitation," and told BuzzFeed News on Monday that the pictures Red State released were "clearly meant to embarrass her."
Harris, who is currently campaigning to be the Democratic nominee for president in 2020, said she "respected" Hill's decision to resign, but added, "Let's also speak the truth that men and women are not held to the same standards. I mean, look at who's in the White House."
"There's so much that people do about women and their sexuality that's about shaming them."
Indeed, a lot of attention was paid to Hill's sexuality.
As Vox notes, conservative outlets in particular emphasized Hill's bisexuality, and the fact that she, her husband, and her campaign staffer were potentially a "throuple" who took multiple vacations together.
"Throuple," "photos," and "uncensored" were some of the top Google search terms linked to Hill's name last week. "This is, to put it mildly, not how the allegations against Sen. Franken were received," Vox's Anna North writes.
In her resignation letter, Hill said she is going to turn her focus to combatting revenge porn.
In her resignation, Hill wrote, is "what needs to happen so that the good people who supported me will no longer be subjected to the pain inflicted by my abusive husband and the brutality of hateful political operatives who seem to happily provide a platform to a monster who is driving a smear campaign built around cyber exploitation."
"Those of you who know me personally know that I'm a fighter," she went on. "Now, my fight is going to be to defeat this kind of exploitation that so many women are victims to and which will keep countless women and girls from running for office or entering public light."
Hill also posted a video on Monday, underscoring her pledge to fight against cyber exploitation.
"Some people call this electronic assault, digital exploitation, others call it revenge porn. As the victim of it, I call it one of the worst things that we can do to our sisters and our daughters."
This post has been updated.