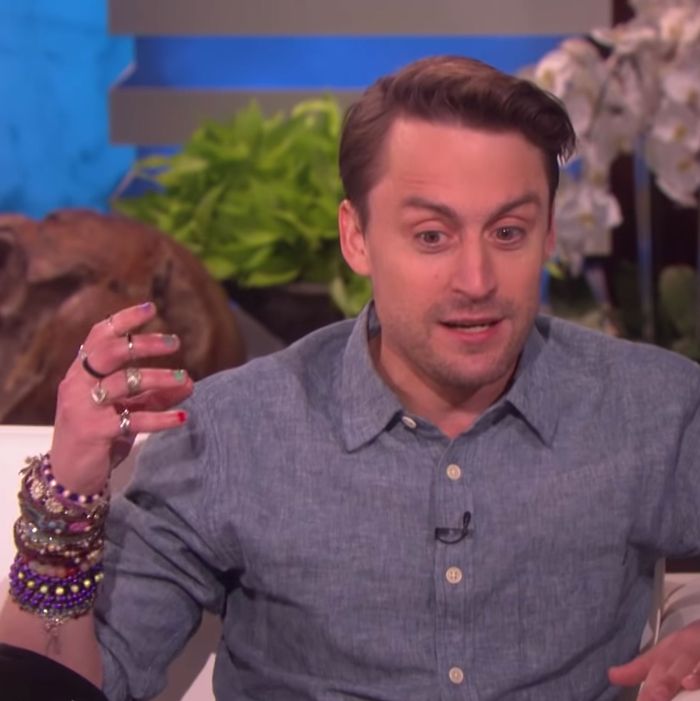 Photo: TheEllenShow/Youtube
Actor Kieran Culkin is perhaps best known for his roles as both Macaulay Culkin's real-life brother and as Roman Roy, the dirty little slime puppy sibling on HBO's Succession. But after making an appearance on [whispers] The Ellen Show this week, we learned something new about him: the man loves accessories.
On Wednesday, a tweet from Jarett Wieselman brought Culkin's "marvelous accessories" to our attention. Really, they're hard to miss. On his right arm, Culkin wears at least a dozen beaded bracelets stacked on top of each other, plus at least one ring — sometimes two — on each of his fingers, which, to top it all off, are all painted a different color. On his left arm, meanwhile, he only wears a watch and his wedding ring. What's happening here?
Culkin's right arm looks like it just got back from summer camp. "Is he a VSCO girl now?" one person replied on Twitter.
"Kieran Culkin's accessorizing is just me while babysitting my niece," wrote another.
My co-workers at the Cut, meanwhile, made comparisons to Lenny Kravitz.
"He has the jewelry of a moderately powerful shaman," one wrote on Slack.
"If Catbird were an L.A. man," said another.
After a cursory investigation, it seems that this is perhaps the most extreme accessorizing Culkin has done in public to date, but he's been known to dabble with jewelry and sporadic nail polish. In fact, it runs in the family. "I just like nail polish, what can I say?" Macaulay Culkin told, uh, Joe Rogan last year in an interview.
Somehow, Ellen failed to bring up Kieran Culkin's accessories in conversation. Instead, they talked about his new baby and of course, Succession. The look really speaks for itself, though. What would Logan say?