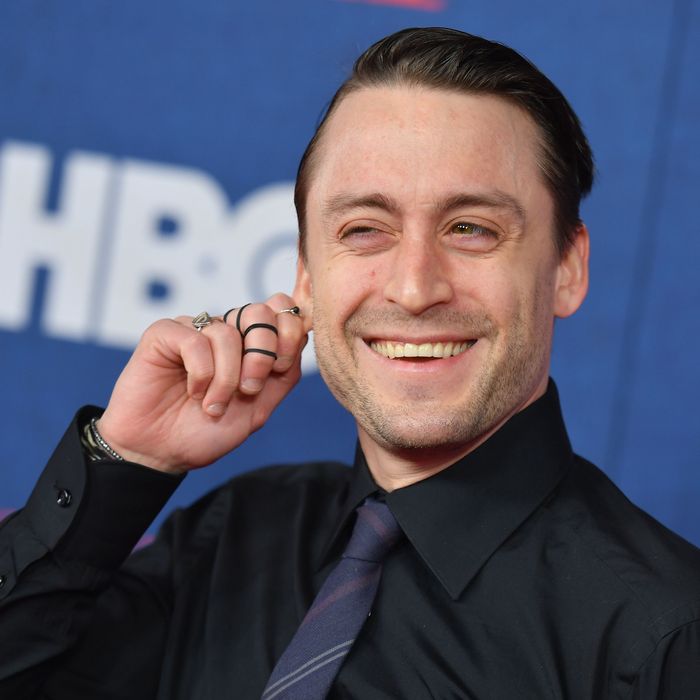 Photo: ANGELA WEISS/AFP/Getty Images
Have I shocked you?
Journalists have speculated that each season of HBO's Succession focuses on one apparent (and flawed) heir to Waystar Royco. There was Kendall, then Shiv, and now … Roman? In an interview with Entertainment Weekly ahead of Sunday night's season-two finale, Kieran Culkin, who plays the foul-mouthed, dumb-but-smart Roman Roy, told EW that, though he doesn't know definitively, he would love if a future season focused on the Roy family's youngest son. In fact, it's a theory he's discussed with Brian Cox, who plays Logan Roy.
Culkin said he shared this theory with Cox when they were shooting the end of season two. "I said, 'Well if you look in the first season, [it seemed] that Kendall was going to be his guy, and then he wasn't,'" he said. "'Then this year, it seems like Shiv is going to be the guy and now it's starting to look like she's not.' And this is before I knew where it was going. I said, 'So, maybe next year is Roman's turn.'"
Perhaps, it is. Even Logan acknowledged Roman's worth in last week's episode, saying, "You act the fuck-knuckle. But you know? People like you." If this means more brutal remarks from Roman and even more screen-time with Gerri, Waystar Royco's general counsel and "stone-cold killer bitch," we're onboard. Culkin told EW that this season's confusing yet engrossing Roman-Gerri matchup was born out of an encounter he had with J. Smith-Cameron, who plays Gerri, in the editing room.
Culkin said he and J. have known each other for a very long time and that he "would, in character as Roman all throughout the first season, flirt with her, and she would just sort of flick me away, bat me like it was nothing." Director and executive producer Mark Mylod told Culkin later that he once witnessed this dynamic play out in the editing room. "He saw in the edit room that I went up to her, I said something vile, and she just sort of dismissed me, and then as I walked away, I checked out her ass and then turned around without knowing that she turned around and checked out my ass," Culkin said. "He said he thought that was really funny, and they talked about that dynamic and thought they should sort of try it."
Culkin said the show likes to experiment with certain things. "If something is working, they will explore it a little more, and if maybe it's not working so much, they'll pull back," he explained. "So, I think they went in this year saying, 'Let's see what happens with Roman and Gerri,' and then it just started moving from there." And, boy, the story of the Rockstar and Mole Woman escalated quickly.