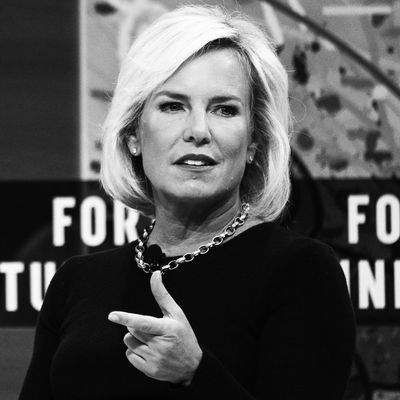 Kirstjen Nielsen.
Photo: Bloomberg/Getty Images
Like Sean Spicer and Steve Bannon before her, former U.S. secretary of Homeland Security Kirstjen Nielsen has officially launched her comeback tour. Nielsen, who famously enforced and defended the Trump administration's memo ordering the forced separation of migrant families, was invited to speak at Fortune magazine's "Most Powerful Women" summit on Tuesday. And what better use of such a platform than to burnish your own image? 
On the summit stage with PBS NewsHour national correspondent and interviewer Amna Nawaz, Nielsen attempted to defend her role in the policy for which she's received the harshest criticism: the forced separation of families at the border. She claimed that she left her position this past April upon realizing that "saying no" to the administration was not enough. (Nielsen was reportedly pushed out by Trump.) In the same breath, she alleged that she "spoke truth to power from the very beginning." When pressed about signing the infamous memo, Nielsen deflected.
"I don't regret enforcing the law, because I took an oath to do that," she said. She claims she simply wanted to "enforce the law, not to separate families."
But that's precisely the order that Nielsen green lighted: the April 2018 memo gave DHS the authority to "permissibly direct the separation of parents or legal guardians and minors held in immigration detention so that the parent or legal guardian can be prosecuted." The effects of the policy are still being felt today. Before a U.S. District judge halted the administration's zero-tolerance policy in June 2018, approximately 2,700 migrant children were ripped from their parents and thrown into cages, where the traumatized kids were subjected to horrific living conditions and abuse. As of now, it's unclear exactly how many migrant children have yet to be reunited with their parents or allowed into the U.S., if that's even a possibility.
While the summit appearance was the first public interview Nielsen gave following her departure from the Trump administration, the former secretary has spent the past six months quietly yet diligently trying to rehabilitate her image. Just earlier this month, the White House announced that Trump had appointed her to the National Infrastructure Advisory Council. And, according to a report published in Politico in April, "Almost as soon as word of her resignation under pressure leaked, Nielsen's allies began spinning a narrative of her tenure that casts her not as an enabler of President Donald Trump's most controversial immigration policies, but as a guardrail against even more extreme action."
But we know this to be untrue. She not only green lighted the infamous zero-tolerance policy, but she has also repeatedly, fiercely defended it — all while maintaining that such a policy never existed. "[A family separation policy] would mean that any family that I found at a port of entry I would separate, it would mean that every single family that I found illegally crossing, we would separate. We did none of those things, " she argued at a heated hearing on the Trump administration's immigration policies in December 2018. In a similarly reprehensible testimony in March of this year, Nielsen argued that "there was no parent who has been deported to my knowledge without multiple opportunities to take their children with them" — yet another claim that contradicts endless reports that say otherwise.
Who knows what Nielsen thinks "speak truth to power" means. She certainly never did such a thing.