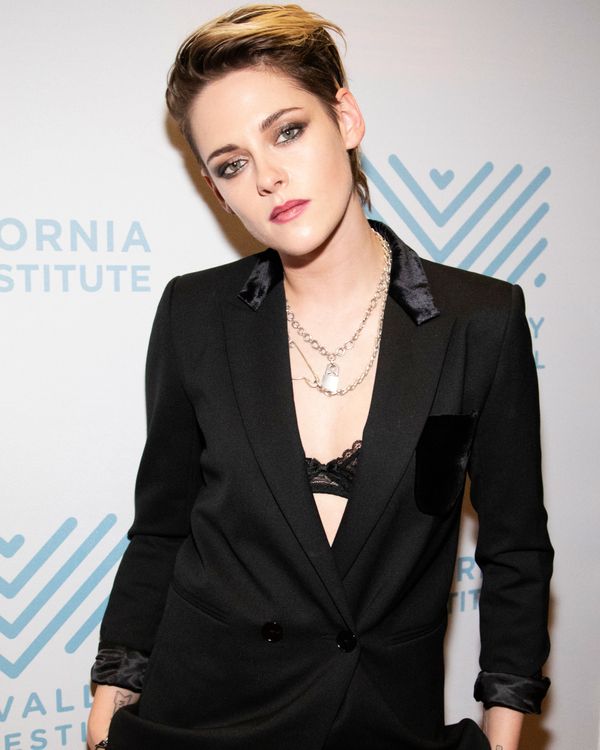 Photo: Kimberly White/Getty Images
If there's one thing I know for certain in life it's that I love to wear suits. But something I often struggle with is what to wear underneath them. Turtlenecks only work during a very specific period of the calendar year, when it's cold enough to be wearing a sweater and a jacket inside. T-shirts might be too casual, whereas a button-up might be too formal. And if you're wearing a tie, somebody better be getting wed or baptized. So, where does that leave a girl? Kristen Stewart has the best answer: Wear nothing.
While attending the Mill Valley Film Festival in San Rafael, California, on Monday night to promote her upcoming film, Seberg, the actress wore a double-breasted tuxedo suit with velvet trim, with nothing underneath but a black lace bra. She accessorized with silver chain jewelry and patent Oxfords, and rolled up her sleeves to show off her tattoos. She also cuffed the hems of her pants — a casual move her fellow red-carpet maverick Timothée Chalamet recently deployed.
KStew is a master of balancing casual and formal. She loves to pair Chanel with jorts, for example. Or a T-shirt with a ladylike skirt. She also knows when it's better to wear nothing at all. Her choice to forgo a shirt altogether in this scenario is liberating for her, for suits, and for anyone having to get dressed for a formal event henceforth. This look is the physical embodiment of her taking off her heels at Cannes. It proves that you don't need a good going-out top if you've got a going-out suit.