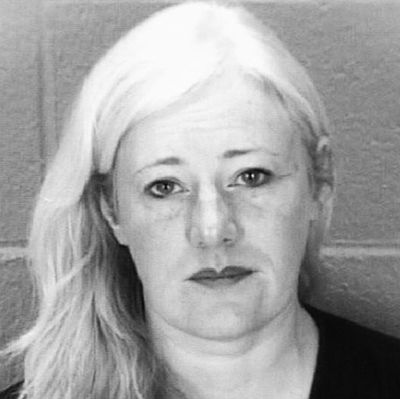 Photo: Tippecanoe County Jail
Before impeachment took over the world's newsfeeds, a way nuttier story was on our minds last month: a possible real-life version of the movie Orphan. Per a Daily Mail article from September 23, an "unsuspecting Christian couple" in Indiana, Michael and Kristine Barnett, had adopted "an adorable little girl only to discover she is an adult sociopath masquerading as a child."
But things very quickly got complicated: Was Natalia Grace, the couple's adopted daughter, really a 22-year-old pretending to be a child and terrorizing her parents, as Kristine has claimed? Or did the parents abandon Natalia, who was actually a minor, and flee to Canada? What is going on here?
The short answer is that we still don't really know. On Friday, September 27, both Barnetts pleaded not guilty to two counts of felony neglect of a dependent in an Indiana courthouse; although Kristine declined to speak to reporters afterward, a lawyer representing her told NBC she was looking forward to "telling her story in court." Then it was reported that Natalia had been found living with another family. Now, in another twist, the Daily Mail claims to have discovered Natalia's Ukrainian birth mother, who says that she is indeed only a teenager. Here's what can be parsed from this utterly strange and confusing tale so far:
Who are the Barnetts, and what have they been charged with?
Kristine Barnett, 45, and her ex-husband Michael Barnett, 43, are the couple who adopted Natalia in May 2010 from a Florida adoption center and took her to their home in Indiana. In 2013, they abandoned her in the U.S. and moved to Canada, though Kristine insists she did so after discovering that Natalia was lying about being a child. (Before making headlines for this case, Kristine was best known as an author and motivational speaker whose expertise was raising children with special needs.)
Earlier this month, the Tippecanoe County Sheriff's Department charged the Barnetts with two counts of felony abandonment of a dependent based on a 2014 statement Natalia made to police: that she had been "left alone" by her adoptive parents in 2013. She reportedly told police she was originally from Ukraine and had been brought to the U.S. in 2008 via an adoption program. According to court documents, Natalia has a form of dwarfism and stands at about three feet tall, and needs help walking.
Kristine and Michael's trial is set to take place on January 28, 2020.
So how old is Natalia, really?
It's unclear. According to the Lafayette Journal and Courier, she's now "either 30 or 16, depending on the documents used to age her." The confusion stems from the fact that the Barnetts had Natalia's birth certificate "corrected" in 2012, after a judge agreed to their petition to have her birth date updated to 1989. The Barnetts claim that a family doctor who conducted bone-density tests after Natalia was adopted determined she was 14 years old or older, and a 2016 letter from Michael Barnett's primary-care doctor insists that she "is substantially older than she claims to be," citing her dental records and "secondary sex characteristics" as proof.
But officials have called these claims into question. Police say that bone-density tests carried out on Natalia in 2010 show that Natalia was eight years old then, and that in 2012, tests showed she was around 11. A lawyer who represented Natalia in 2013 told the Journal and Courier, "I do not believe her to be an adult at the time I represented her." Another lawyer, who represented a family who tried to obtain guardianship of Natalia, told the outlet, "The most egregious part of it is that this child was turned into an adult without any representation … This kid's sitting out there, and her parents say, 'Well, we're going to turn you into an adult.' Which is what I find incredibly offensive."
From 2013 to 2016, police say, the Barnetts did not support Natalia financially while she lived alone in an apartment in Lafayette, Indiana, and they lived in Canada, where they had moved so their other son, Jacob, could attend a specialized school. Jacob was diagnosed with autism at age 2 and has a genius-level IQ, and Kristine wrote a book about him called Spark in 2013.
The police say Michael Barnett, who now lives back in Indiana with his current wife, told them this month that "Kristine Barnett told Natalia to tell others Natalia looks young but was actually 22." He's now denying that he made the statement.
What do the Barnetts say?
The Barnetts claim they are the victims of fraud. Kristine Barnett told the Daily Mail that the couple was told Natalia was 6 years old when they adopted her in 2010, but they quickly began noticing things that would indicate she was not a child: She says that she discovered Natalia had full pubic hair while giving her a bath; she also says the girl "shunned dolls and toys," and had a sophisticated vocabulary. At one point, Barnett claims, she started finding evidence that Natalia was getting her period and hiding it.
Kristine Barnett says Natalia's behavior became dangerous after her family doctor performed the bone-density test on her, which Barnett says showed she was "14 years old or older" (prompting comparisons between the case and 2009's Orphan). She alleges that Natalia drew pictures saying "she wanted to kill family members, roll them up in a blanket and put them in the backyard"; that she put bleach or Windex in Barnett's coffee and told her, "I am trying to poison you"; that she stood over the Barnetts while they slept; that she allegedly attacked a younger child; and that she tried to drag Barnett into an electric fence in 2012. Natalia was then placed in a psychiatric unit at a hospital. During treatment, a therapist says she allegedly revealed she was 18, and the Barnett's family doctor wrote a letter saying that he supported the idea that Natalia "had made a career out of pretending to be a young child."
In 2012, the Barnetts officially had Natalia's age "corrected" to 22 in county court — in order to get her the psychiatric treatment she needed as an adult, they say. According to Kristine Barnett, Natalia dropped out of contact after she helped her rent an apartment, and she worried she had been posing as a child for another family. "I had found a little pink dress in her closet and a little pink bicycle parked beside her house," Barnett said.
What about Natalia's birth mother?
On October 8, the Daily Mail reported that a woman claiming to be Natalia's Ukrainian birth mother has confirmed that she is indeed a teenager. Anna Volodymyrivna Gava, 40, told reporters that she had given birth to a baby girl on September 4, 2003, but "felt forced to surrender her" when doctors told her she was born with short arms and legs. Her child, Natalia, was then sent to an orphanage, where she lived for five years before being adopted by an American couple. Gava said Natalia is now 16 years old.
The Daily Mail says it "learned independently" that Natalia "arrived in the U.S. in 2008 with paperwork stating she was named Gava Natalia Vadymivna and was born September 4, 2003," seeming to back up Gava's story — and prosecutors' claims that the Barnetts abandoned their adopted daughter. "Why did they decide that she is older than according to documents?" Gava told the Daily Mail. "It is clear that the child does not look older. "You [the Barnetts] were saying and swearing you'd help the child but it turns out you didn't do anything. Why are you leaving an underage child and say that she's older?"
Where is Natalia?!
Police haven't released any official update on Natalia's whereabouts, but according to the Daily Mail, Natalia is now living with another Indiana couple, Antwon and Cynthia Mans, and their five children. They are the same couple who applied to be Natalia's guardians in 2016, filing documents that referred to Natalia as "approximately 13 or 14 years of age, born September 4 (year uncertain) … who is unable to maintain and care for her financial affairs and person as she is actually a minor abandoned by her adoptive parents." The Manses reportedly asked for a judge to reinstate Natalia's original birth date and overturn the ruling that said she was born in 1989, but it was upheld, and they withdrew their petition.
The Manses are also said to be a religious Christian couple, and Antwon Mans was recently ordained as a pastor. They refused to give a comment to the Daily Mail, but a "friend" is quoted as saying that Natalia is in "a really awkward position" because of the sensational claims that she is an adult rather than a teenager.
We still don't really know why police are just filing charges now, or how exactly Natalia was able to take care of herself despite living alone after the Barnetts moved to Canada. The Manses allegedly met Natalia at some point in 2013.
This post has been updated with additional information.