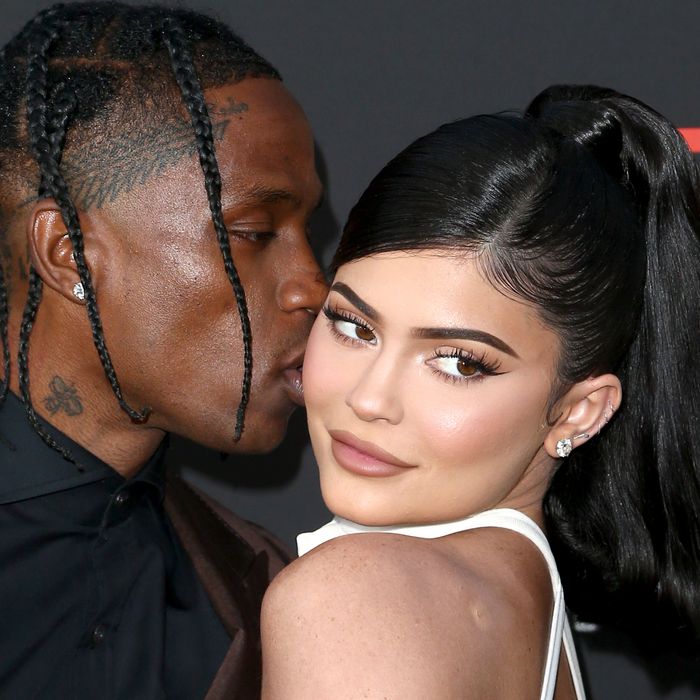 Photo: Tommaso Boddi/Getty Images for Netflix
Someone get Kris Jenner on the phone: Kylie Jenner and Travis Scott have reportedly called it quits. At least, for now.
On Tuesday, TMZ broke the news that Jenner and Scott had decided to go on a break, and apparently, a few weeks back. This checks out: Scott wasn't at the second wedding of Justin Bieber and Hailey Baldwin in South Carolina this past weekend, which Jenner attended with her sister, Kendall. Jenner also has not posted about Scott on her social-media accounts since September 10. In fact, the couple hasn't been seen together since late August, at the premiere of his documentary, Look Mom, I Can Fly.
This isn't the first time the couple has decided to take a break, and sources don't believe this one is permanent. "Kylie and Travis have been on and off at various times throughout their relationship," one such source told Us Weekly. "Kylie still loves Travis and this isn't considered a full breakup to either of them."
As of now, the split seems clean. According to sources who spoke to The Blast, the couple plan to equally share custody of baby Stormi while they take this time apart.
The two first began dating after meeting at Coachella in 2017, shortly after Jenner split with Tyga. Ten months after their desert-festival meet-cute, Jenner gave birth to their daughter, Stormi, in February 2018. This past year, the couple have battled rumors of Scott's infidelity, but the rapper attempted to put an end to the speculation after "strongly denying" to People that he had cheated on Jenner and their relationship seemed to prevail. In February, Jenner even kicked off rumors she was pregnant with their second child after posting an affectionate photo of herself and Scott with a teasing caption that read, "baby #2?"
Scott also recently photographed Jenner for her Playboy cover, but a sexy collaboration like that, or even an over-the-top romantic gesture, seems to be no match for the trials and tribulations of young love.
This post has been updated.