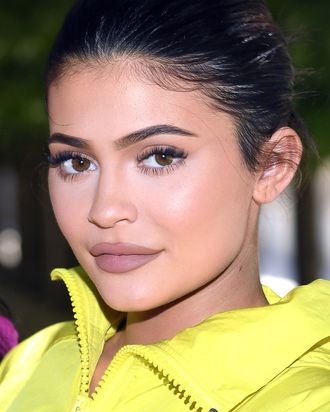 Photo: Dominique Charriau/Getty Images
Kylie Jenner reportedly met up with her ex-boyfriend, Tyga, late Tuesday night, just hours after news spread of her and Travis Scott's breakup.
According to E! News, Jenner was out with her friends, Stassie Karanikolaou and Kelsey Calemine, at the West Hollywood restaurant Delilah when they met up with Tyga and his friends at the nearby Sunset Marquis hotel. "Kylie wanted to have a girls' night out last night and Stassie thought it would be best to get her out of the house and her mind off the news," the source told E!. "He was with a few of their mutual friends at Sunset Marquis and invited Kylie and her girlfriends to come hang out, since they were already out."
Jenner and Tyga were rumored to be dating as early as 2014, and broke up in 2017, just before Jenner met Scott, with whom she has a 1-year-old daughter, Stormi. The source also told E! that Jenner and Tyga have kept in touch with each other since their breakup, but don't communicate often. "It wasn't an intentional jab at Travis, but she did hang out with Tyga for a bit. Nothing romantic is going on," the source said, pointing out that the former couple have a lot of mutual friends, and their inner circle is small.
Tyga isn't the only ex-boyfriend that Jenner's hung out with during her and Scott's relationship hiatus. She was also seen dancing with ex Jaden Smith at Justin Bieber and Hailey Baldwin's wedding this past weekend.
Though Jenner and Scott's split is said to more than likely be temporary, the couple apparently wanted different things. "There were several issues that made them decide to take a break," a source told People. "Kylie is all about family life and really wants a second baby." Jenner and Scott reportedly also have some trust issues to sort out. "She still has trust issues with Travis. He hasn't been giving her the commitment that she needs," the source said. "Travis isn't ready to give her all that she wants."
On Thursday morning, Kylie engaged in yet another soothing post-breakup behavior: publicly abstaining from drama. On Twitter, she clarified that her hangout with Tyga was only 1/100th as dramatic as it seemed, and was also not a date.
"There was no '2am date with Tyga,'" she tweeted. "You see me drop two of my friends off at a studio that he happened to be at."
This post has been updated.